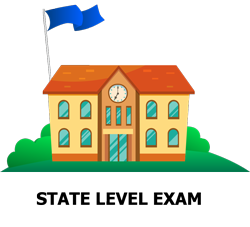 List of Popular State Level Recruitment Examinations
Job security, handsome salary, and good perks are the magnets that attract students towards a government job. However, the saying "No pain, no gain" goes best for the jobs in central and state government. The cut-throat competition and difficulty level of the exam makes it a tough task to clear the exam. While the competition at the Central Government level recruitment exams such as IAS, IPS, IFS, IES, SSC, Banking, Railway, etc. is fierce, students can consider state-level examinations where the difficulty level of the paper is comparatively less and preference is also given to state domicile candidates.
The state government releases notification for these exams to recruit for different posts at various offices of state government. Recruitment notices can be released online or offline through the employment newspapers. Here is the list of popular state level recruitment exams. You can click on the exams to get complete details related to eligibility criteria, exam pattern, vacancies details, application procedure, selection process, etc. It will take time to provide information for all the exams, so stay connected for latest updates. We will also be adding other state level exams to the list.
Top State Level Exams
Scroll left or right to view full table
List of Popular State Level Recruitment Examinations
State

Exam

Andhra Pradesh

Andhra Pradesh Forest Exam

Andhra Pradesh Police Exam

Andhra Pradesh PSC Exam

Arunachal Pradesh

Arunachal Pradesh Police Exam

Arunachal Pradesh Public Service Commission Exam

Assam

Assam PSC Exam

Assam Postal Circle Exam

Chhattisgarh

CGPSC Exam

Chhattisgarh Postal Circle Exam

Chhattisgarh Professional Examination Board Exam

Chhattisgarh Forest Department Exam

Goa

Goa Police Exam

Goa PSC Exam

Goa Forest Department Exam

Haryana

Haryana Police Exam

Haryana High Court Exam

ESIC Haryana Exam

Haryana School Education Department Exam

Haryana Postal Circle Exam

Haryana Forest Department Exam

Haryana School Teachers Selection Board Exam

Haryana Public Service Commission Exam

HSSPP Exam

HSSC Exam

Himachal Pradesh

Himachal Pradesh Postal Circle Exam

Himachal Pradesh Public Service Commission Exam

ESIC HP Exam

Jammu & Kashmir

JK Police Exam

JKPSC Exam

Karnataka

Karnataka PSC Exam

Karnataka Postal Circle Exam

Karnataka State Police Exam

Karnataka Forest Department Exam

Karnataka High Court Exam

SSC KKR Exam

Kerala

Kerala PSC Exam

ESIC Kerala Exam

Kerala High Court Exam

Kerala Postal Circle Exam

Maharashtra

Maharashtra Police Exam

Maharashtra Postal Circle Exam

Maharashtra Excise Department Exam

Maharashtra Forest Department Exam

Maharashtra PSC Exam

Madhya Pradesh

MP High Court Exam

MPPSC Exam

MPPEB Exam

Meghalaya

Meghalaya PSC Exam

Meghalaya Police Exam

Manipur

Manipur High Court Exam

Manipur PSC Exam

Nagaland

Nagaland PSC Exam

Orissa

Orissa High Court Exam

OSSC Exam

Punjab

PPSC Exam

Rajasthan

Rajasthan Postal Circle Exam

Rajasthan High Court Exam

Rajasthan Forest Department Exam

Rajasthan Police Exam

Sikkim

Sikkim PSC Exam

Sikkim High Court Exam

Sikkim Police Exam

Tamil Nadu

Tamil Nadu Postal Circle Exam

Tamil Nadu PSC Exam

Tripura

Tripura PSC Exam

Uttar Pradesh

UPPSC Exam

UP Police Exam

West Bengal

West Bengal Police Exam

West Bengal Postal Department Exam

West Bengal PSC Exam

WBSSC Exam
Scroll left or right to view full table