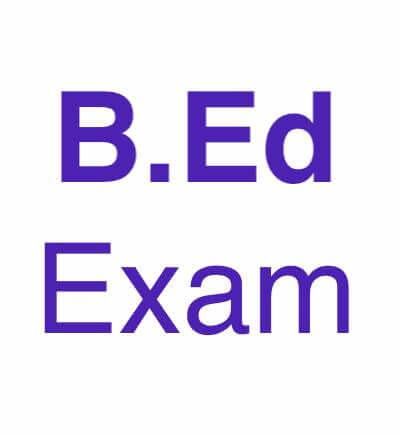 Bachelor of Education (B.Ed.) Program – Entrance Exams, Eligibility, Job Prospects, and Colleges
Teaching has been always considered to be one of the most popular career choices among students. Candidates can become a teacher at pre-nursery, nursery, primary, secondary, and senior secondary levels in schools and a lecturer/professors at the college/ university level. Different qualifications are required to teach students at different levels. Bachelor of Education (B.Ed.) is the most preferred course for entering the teaching profession. B.Ed. is not an undergraduate level course and candidates are required to complete UG level education for pursuing B.Ed. course.
B.Ed. is a professional course of two years duration and candidates can apply for a teaching job immediately after completion of the course. The article here will cover the complete details related to exam pattern, eligibility, syllabus, the application process, colleges, fee structure, and more for the B.Ed. course.
A B.Ed program equips candidates with the necessary skills required for a teaching career. Admission to this program is done through entrance examinations (Teacher Eligibility Test) conducted at the state, university, or institute level. These exams are generally conducted in June/ July and academic sessions begin in August/ September.
B.Ed. Programmes Latest Updates - The Human Resource Development (HRD) Ministry introduced the New Education Policy (NEP) on 29th July 2020. As per NEP, NTA will conduct the test for B.Ed. Admissions. Also, the merit-based scholarship will be offered to candidates interested in 4-years integrated B.Ed. course.
UP B.Ed JEE 2022 - Registration - Apply here
For B.Ed Exam details in Hindi - click here
B.Ed. Course Highlights
| | |
| --- | --- |
| Course Name | Bachelor of Education (B.Ed.) |
| Course Duration | 2 years |
| Admission Process | Merit-Based and Entrance Exams |
| Entrance Exam Conducting Authority | State governments, universities, and institutes. |
| Eligibility | Graduation (minimum marks may vary for different exams) |
| Average Course Fee | ₹ 1 Lakh |
| Average Salary | ₹ 4 Lakhs per annum |
| Job Profiles | Teacher, Counselor, Education Researcher |
Scroll left or right to view full table
B.Ed. Entrance Exams
Different B.Ed. entrance exams are conducted by institutes and universities. Some of the popular ones are:
DU B.Ed. Entrance Exam
BHU UET
IPU CET
HPU B.Ed.
MAH B.Ed. CET
Bihar B.Ed. CET
Odisha B.Ed. Entrance Exam
B.Ed Exam 2022 Pattern & Syllabus
B.Ed. Entrance Exam Pattern 2022
As mentioned above, different B.Ed. entrance exams are conducted by different institutes. The pattern of the entrance exam might differ slightly. However, it remains common for most exams. Objective-type questions are asked from the following sections:
Basic Numerical and Reasoning Ability
Teaching Aptitude
General English
General Awareness
Local language (in some state-level exams)
After the entrance exam is completed, a merit list is released for the qualified candidates and they are called for counselling/admission process.
B.Ed. Entrance Exam Syllabus
Basic Numerical and Reasoning Ability - Average, Percentage, Ratio & Proportion, Profit & Loss, Data Interpretation, Graphs and Charts. Series Completion, Tests of Aplbhabets, Principle of Classification, Substitution and Interchanging, Puzzles, Syllogism, Seating Arrangements.
Teaching Aptitude - Nature, Objective, Characteristics, and Basic Requirements of Teaching, Teaching Aids, Factors Affecting Teaching, Methods of Teaching.
General English - Grammar, Reading Comprehension, Synonyms and Antonyms.
General Awareness - Current Affairs, History, Polity, and General Science.
Local Language (in some state-level exams) - Syllabus varies per state.
B.Ed Exam 2022 Eligibility
Educational Qualification
Here are the educational eligibility requirements for the programme:
A bachelor's degree in Science (B.Sc), Commerce (B.Com.), or Arts (B.A.) from a recognised university with at least 50% marks is essential.
The minimum marks in the qualifying exam vary from institute to institute. Some have set minimum marks to be at 50% while others at 55%.
Those possessing a Master's degree (any discipline) can also apply for a B.Ed. entrance exam.
Age Limit
The minimum age limit for pursuing a B.Ed course is 19 years. There is no maximum age limit.
B.Ed Exam 2022 Application Process
The application process for the B.Ed entrance exam can be offline or online as per the university you are applying for. However, most universities offer an online application process. Candidates are required to keep an eye on the official website of the respective institute for the release of the application form. It is advised to submit the filled-in application forms well before the last date. Here, we have provided the general process for application submission.
B.Ed. Entrance Exam Application Submission Process
Visit the official website of the respective university.
Click on the link for the B.Ed application.
Complete the registration process by providing basic details such as name, email Id, mobile number, etc. You will receive a registration ID on completion.
Use the registration ID and password to log in and access the application form.
Complete the application form with details such as education qualification, address, gender, exam centre choices, category, etc.
Upload the required documents.
Make the application fee payment. The application fee will vary for different institutes.
After successful fee payment, submit the application form and take a print of the confirmation page.
Note: Read the instructions in the official notification carefully before applying for the exam.
B.Ed Exam 2022 Other Details
B.Ed. Admission Process
The admission process for B.Ed. courses vary for different colleges and universities. Here we have listed a few common steps that will help you understand the admission process:
After the entrance exam, a merit list is published by the institute on its official website. If there is no entrance exam, the merit list will be prepared based on the marks in the qualifying exam.
After the merit list is released, selected candidates are required to appear for the document verification process wherein they are required to complete the admission formalities.
After document verification and fee payment, candidates can join the course as per the scheduled session.
B.Ed. Course Content
Teaching courses in India are regulated by the statutory body, the National Council for Teacher Education (NCTE). The curriculum of B.Ed. programmes include the following topics:
Education, Culture, and Human Values
Educational Evaluation and Assessment
Child Development – Stages and Various Issues
Guidance and Counselling
Holistic Education
Philosophy of Education
Health, Yoga and Physical Education
Practical training/school internship/field engagement and assignments are also a part of the course.
B.Ed. Course Fee
B.Ed course can be done through both regular and distance learning modes from government or private colleges. Thus, the fee of the programme depends on the mode of education and the type of institution. However, B.Ed. fee in different colleges ranges from ₹ 20,000 to ₹ 1,00,000.
B.Ed. Specialization
Candidates can pursue B.Ed in different specialisations as mentioned below:
B.Ed (Accounts)
B.Ed (Arabic)
B.Ed (Business Studies)
B.Ed (Biological Sciences)
B.Ed (Commerce)
B.Ed (Child Development)
B.Ed (Computer Science)
B.Ed (Education of Handicapped)
B.Ed (English)
B.Ed (Economics)
B.Ed (Geography)
B.Ed (Home Science)
B.Ed (Information Technology)
B.Ed (Maths)
B.Ed (Malayalam)
B.Ed (Natural Science)
B.Ed (Physical Science)
B.Ed (Social Science)
B.Ed (Special Education)
B.Ed (Special Education) (Mental Retardation)
B.Ed (Special Education) (Visually Impaired)
B.Ed (Special Education) (Learning Disability)
B.Ed (Sanskrit)
B.Ed (Special Education – Locomotor and Neurological Disorder)
B.Ed (Tamil)
B.Ed. through Distance Mode
The Bachelor of Education programme is also available through distance mode for candidates who are willing to pursue the course that way. The duration of such courses varies from two years to five years. Admission to distance courses will also be done through entrance examinations conducted in September. Eligibility for the course is a UG degree with 50% marks or a PG degree with 55% marks.
B.Ed. from IGNOU (Distance Learning Mode)
Those who are unable to pursue a regular course due to whatever reasons can go for distance learning B.Ed. course from the Indira Gandhi National Open University. The minimum requirement for IGNOU B.Ed. is 50% marks in Bachelor's or Master's degree. The duration of the course is from 2 years to 5 years. Candidates are required to qualify for the IGNOU B.Ed. Entrance Exam for securing admission in the B.Ed. programme. Other colleges that offer B.Ed. programme through distance learning mode are:
Satyam College of Education, Noida
Lady Shri Ram College for Women, New Delhi
St. Xavier's College of Education, Patna
Lovely Professional University, Jalandhar
Netaji Subhash Open University
Top B.Ed. Colleges
Some popular colleges for B.Ed. courses are as under:
Amity Institute of Education, New Delhi
Banaras Hindu University, Uttar Pradesh
Indira Gandhi National Open University – IGNOU, Delhi
Jamia Millia Islamia Institute of Post Graduate Studies and Research, New Delhi
Lady Irwin College, New Delhi
St. Xavier's College, Kolkata
Panjab University – PU, Chandigarh
Maharshi Dayanand University, Haryana
SNDT Women's University, Mumbai
Mother Teresa Women's University, Tamil Nadu
Annamalai University, Cuddalore
Bangalore University, Bangalore
The University of Kerala, Department of Education
University of Madras
Madurai Kamaraj University
Patna University
Job Profiles
With a B.Ed. degree, candidates can apply for the following posts:
Teacher
Librarian (B.Ed. with specialisation)
Counsellor
Administrator
Principle
Assistant Dean
Principle (with required experience)
Educational Researcher
Syllabus Designer
Content Writer (Educational Writer for Magazines, Websites, Newspapers, etc.)
The average salary of a teacher can vary from 2 lakh to 6 lakh. Qualifying for the CTET exam will offer better teaching opportunities in government schools.
Employment Areas
Candidates with a Bachelor of Education degree can find good job opportunities in the following areas:
Schools and Colleges
Educational Institutes
Education Consultancies
Coaching Centres
Research and Development Agencies
Publishing Houses
Home/Private Tuitions
Higher Education Options
Candidates can also go for higher education options after completing their B.Ed degree. Master of Education (M.Ed) is also offered through both regular and distance mode. You can go for any of them at your convenience and preference.