In the year 2014, the IIM admission criteria changed. 11 IIMs replaced Group Discussion (GD) with the Written Ability Test (WAT). So, WAT and Personal Interview (PI) were the main criterion of selecting the students for admission in nation's most reputed management institutions. From 2014, same procedure is being followed and more B-Schools are joining the list of those going for WAT.
WAT is an essay writing round where candidates are given a certain limit of time to express their thoughts on the given topic. Different institutes provide different time limit. You might get a topic directly or through a picture or a video. Candidates are shown small video or picture and then asked to write a small easy on what they have observed.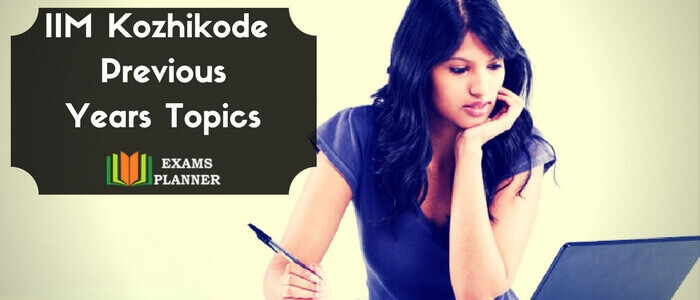 Let's move ahead to the topic for which you are here, previous year's WAT and GD topics at IIM Kozhikode. IIM Kozhikode was among the 11 institutes which adopted the WAT in 2014. However, it was only IIM Kozhikode and IIM Lucknow, which have not replaced the GD round. So, the selection process of IIM Kozhikode includes WAT, GD and PI round. This format was followed for the ongoing session 2017-2019.
Before getting the list of the topics, read some of the tips which might help you in the Written Ability Test.
Nothing will prepare you better than daily practice of writing about different topics.
Try to write the same essay in different time limits viz. 15, 20, 25, 30 and 45 minutes. In this way you prepare yourself for different scenarios as every B-School follows different pattern.
The key for cracking the Written Ability Test is how fast you structure your thoughts and how quickly you jot them down.
Also, keep in mind that your essay can be used to ask questions in the PI round. So, don't include point which is not clear to you.
You can start with what you understood about the topic and then progress your article in a single direction i.e. "For or Against" the topic.
So, to help you in your practice session, we are providing a list of previous years' topics asked at the Indian Institute of Management, Kozhikode. You can also check out WAT and GD topics of other IIMs in subsequent articles.
Also Read :