What is a Group Discussion (GD) and how is it Helpful?
Group Discussion or GD is an activity where a group of individuals put forward their viewpoints on a particular topic. The main purpose of a Group Discussion is to evaluate the candidates' ability based on various skills such as subject knowledge, communication skills and aptitude to perform in a group or team. It provides a platform for students to go fearless, shed away shyness and improve their vocal. Moreover, it helps candidates open the doors of knowledge by exchanging ideas and opinions.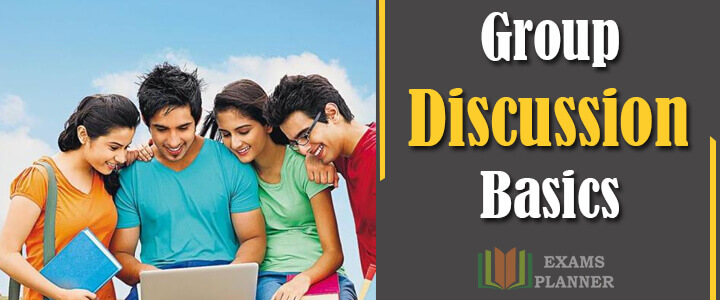 What Does a Group Discussion (GD) Evaluate?
Colleges and companies conduct Group Discussions (GD) round to evaluate an individual on the following aspects –
Communication skills
Interpersonal Skills
Motivational Skills
Leadership Skills
Team Building Skills
Reasoning ability
Analytical /Logical Skills
Initiative
Different Thinking
Flexibility
Assertiveness
Creativity
Ability to Think Instantly
Group Discussion for MBA Admissions
Group Discussion (GD) is an important part of the final selection procedure of various competitive entrance examinations such as management, medical, engineering, banking, armed forces, etc. In this article, we have covered GD round for admission to MBA courses. However, these tips can be used for any group discussion that candidates would likely to take part in. Although the Group Discussion round has been replaced by the WAT round in most of the IIMs, it forms an important part of the final admission procedure in many B-Schools. In most Business Schools, Group Discussions are conducted amongst a group of 8-10 participants and a situation or a topic is given to them for discussion within a time limit. A panel observes the discussion and evaluates every member of the group.
Group Discussion: Do's and Don'ts

Do's

Don'ts

Address the group with dignity and respect
Stick to the professional etiquettes
The first entry should be well-planned
Enter the discussion with a strategic input
Understand the difference between initiating and beginning the discussion
Organise your thoughts before speaking
Be yourself
Be a good listener
Put your views in an easy to understand the language
Be receptive to others' thoughts and opinions
Establish eye contact with others (key participants)
Don't overlook the passive participants completely
Strong voice, correct usage of grammar, clear diction and good language
Constructive arguments
Accept counter arguments gracefully
Be a good learner
React to others in a positive way and acknowledge the preceding before putting forth your opinion
Show good interpersonal skills
Give facts and figures to support your viewpoint
To conclude, sum up the discussion with some key points
Show a well-maintained disposition

Don't be an impulsive participant
Don't initiate a conversation without solid planning
Don't repeat any point unless it is highly required
Don't use a dominating tone
Don't take anything personally
Don't lose your cool
Don't object without a solid reason
Attributes such as arrogance, overaggressive, loud, etc. should be avoided
Don't carry negative energy or attention
Don't show poor interpersonal skills
Don't give all the attention to the main participants. Give equal attention to others as well
Don't deviate from the main topic
Don't ask stupid questions without a base
Don't get involved in cross discussions if the main topic is being discussed
Don't violate the essence of the discussion
Avoid futile discussions or unnecessary arguments
Don't come to the discussion with improper attire
Don't shout or scream to provide your viewpoint
Don't over gesticulate
Don't interrupt others (their private space) while making your points
Don't breach the code of conduct
Keep these points in mind and practice the mock group discussions with friends to boost your confidence.
Also Read :