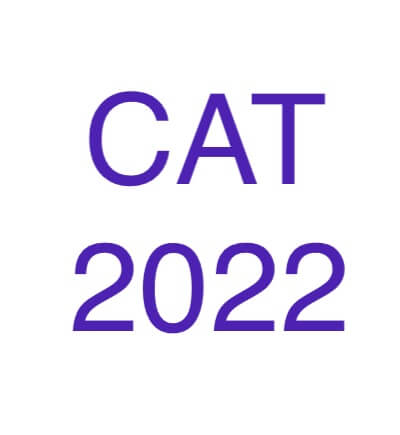 Common Admission Test (CAT) 2022 Eligibility Criteria
Common Admission Test (CAT) is conducted for admission to MBA courses offered by the Indian Institutes of Management (IIMs) and other pioneer management institutions. This year's CAT Exam is to be held on 27th November (Sunday). The eligibility criteria for the exam as stated on the official CAT website are as follows:
CAT Exam 2022 Eligibility -
Candidates must hold a Bachelor's degree with at least 50% marks (45% for candidates belonging to SC, ST and PwD categories) or equivalent CGPA from a recognised institution.
Candidates appearing in the final year of bachelor's degree or equivalent course and those who are waiting for final year's result are also eligible to apply for the exam. However, candidates must note that if they are selected for MBA programmes, they have to submit a certificate from the Principal/Head of their institution stating that they have met all requirements for attaining a Bachelor's degree. This will ensure provisional admission.
Candidates need to fulfil any one of the following requirements for CAT 2022:

Completed Bachelor's degree (minimum 50% for General and OBC (NC) and minimum 45% for SC/ST/PwD)
Completed professional degree (CS/CA/ICWA) (minimum 50% for General and OBC (NC) and minimum 45% for SC/ST/PwD)
The final year of bachelor's degree (minimum 50% for General and OBC (NC) and minimum 45% for SC/ST/PwD)

The percentage of marks obtained by candidates will be calculated on the basis of the system followed by their respective institutions. Grades and CGPA will also be converted on the basis of the system followed by the institution. If the institution doesn't follow any system for CGPA conversion, the following will be used:
Candidate's CGPA divided by maximum possible CGPA; result multiplied by 100
IIMs have complete right to verify a candidate's eligibility at different stages of the selection process. Applicants should note that mere fulfilment of eligibility criteria does not ensure shortlisting by IIMs.
Important Note for SC, ST, OBC (NC), EWS, and PwD Category Candidates
Candidates belonging to SC/ST categories are required to submit caste certificate to IIMs. The certificate should be in the Government approved format and should clearly mention:
Name of candidate's caste/tribe
Whether the candidate belonging to Scheduled Caste or Scheduled Tribe
District and State/Union Territory of ordinary residence
The appropriate Government of India schedule under which candidate's caste/tribe is approved.
Candidates must upload a copy of their caste certificate at the time of CAT registration. Failing to do so will result in rejection of CAT application.
Candidates are also required to carry their caste certificate (if applicable) at the time of the interview process and a photocopy of the same is to be submitted. Another photocopy of caste certificate is required to be submitted at the time of joining the MBA programme. Failure to do so will result in not being considered under the reserved category.
Please Note: "Candidates must provide and maintain a valid email account and phone number for communication throughout the selection process".