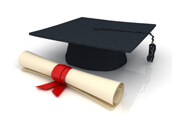 G. P. Birla Scholarship 2018 for Outstanding West-Bengal Students
The G. P. Birla Scholarship is named after the famous philanthropist Mr. G.P Birla. He believed in empowering the youth and highly promote education facility in the nation. Hence, the aim of the scholarship is to empower young students of West Bengal in particular. The program is for meritorious students with a score of 80% or more in the Central or State Board. It also offers help to students from weak financial backgrounds to pursue higher education.
Higher education can be in any stream like; Science, Humanities, Engineering, Medicine, Architecture, Company Secretaryship, Cost Accountancy, Commerce, Law and Chartered Accountancy Course, in any renowned University/Institution in India.

G. P. Birla Scholarship 2018 Latest Notification: The application process of the scholarship began in May 2018 and ended on 15th July 2018. The result announcement will take place in October 2018. Bookmark this page to get recent updates and information related to this as well as other scholarships.
G. P. Birla Scholarship: Quick Overview

Deadline
15 Jul 2018
Class / Course
Undergraduates, Graduate
Scholarship Type
Under Graduate, Graduate
Awarded Amount
₹ 50,000 per annum
Age Limit
N/A
Gender
All
Religion
All
State
West Bengal
Country
India
Apply Now
Click here
Eligibility Criteria
The program is only for students who are natives from West Bengal. Other important criterions include: -
The candidate must have passed Higher Secondary (12th) in the year of 2017 with 80% marks or more than WBCHSE.
Applicant must have a score of 85% or more in the Central Board
The student must be among the Top 15000 rankers in the JEE/ AIEEE/AIPMT tests.
The candidate does not have enough money to pursue higher education.
Benefits under the Scholarship
There are various benefits attached to this scholarship program, they include: -
About 100 students get this scholarship every year
Each selected student receives ₹50,000 per year, which covers the tuition fee and hostel fees.
The beneficiary also gets ₹7,000 as additional payment for purchasing books in the 1st year.
How to Apply
After checking and verifying their eligibility, students need to follow these steps to apply for the scholarship: -
Visit the official G.P Birla Foundation website.
From the Menu Bar, Choose the Download option to view the application form.
Download the form in PDF or WORD format.
Fill up all the personal and academic details.
Paste a passport size photograph
Take a print of the form and enclose it with all the necessary documents.
Send the form by post at-
G.P. Birla Educational Foundation,
78, Syed Amir Ali,
Avenue,
Kolkata – 700019
Essential Documents
It is vital for each applicant to submit these documents: -
A copy of completed application form (duly signed by the Head of the Institute)
A copy of class 10th-12th mark sheets and certificates
A copy of University/College admission letter (if applicable)
A copy of Annual family income certificate
A copy of each extra-co curricular activities certificate
Selection Procedure
An expert panel of the G.P Birla Foundation will screen the applications and make selections. Students can submit their applications either personally or via Head of Institution.