How to Participate in Indian Engineering Olympiad (IEO) 2019
The application process for 4th Indian Engineering Olympiad is now open for the scholars of different engineering streams. The overall prospectus of the program is available for 1st, 2nd, 3rd and 4th-year students of Indian recognized colleges. The main agenda to promote this program is to enhance the revising culture for the prominent academies which will help students to attain the best learning environment for their future prospect. This national level competitive exam provides an exposure of Technical knowledge which will enlarge the spectrum of general aptitude of the young budding fellows.
The IEO program offers an opportunity to test the real capabilities of Indian scholastic engineers and inspire them to achieve excellence in their own particular subject. For this competitive analytic exam, students need to be presented at the designated centers allocated by the Indian Engineering Olympiad 2019. Apart from this college who hold the top 15 ranking in this Olympiad will be honored as winners and rewarded Certificates of Excellence, Financial Scholarships, Medals, and a Trophy.
4th IEO 2019: Mission & Objectives
The main agenda to pass this proposal is to offer an imaginative and creative path to the young engineering fellows and nurture their talent through the means of good technical knowledge. This competitive exam will be completed via 3 stages i.e. Online Test, Offline Paper Based Test, and finally the Personal Interview Round. In the course of these rounds, an organization will get its best engineering students who pass this exam through their mental ability and technical skills. Talking about its eligibility, the scheme will endow the capabilities and aptitude of engineers in the following subjects, as mentioned below:
Computer Science Engineering (CS)
Electrical Engineering (EE)
Electronics And Communication (EC)
Civil Engineering (CE)
Mechanical Engineering (ME)
Chemical Engineering (CH)
Instrumental Engineering (EE)
Now the biggest question is how to enroll for the program so that you can get the best outcome of the IEO 2019 Competitive Olympiad? Scroll down this page to understand the basic steps and procedures of enrollment with the program.
Steps to Apply for IEO 2019
Enthusiast students who want to seek admission in the 4th Session of Indian Engineering Olympiad 2019-20 can enroll themselves as per the given admission criteria. The steps will be divided into two rounds which will be mentioned below-
Process of Application -
Fascinating students need to submit their applications from the official web portal of IEO 2019-20.
All they need to do is by simply click the 'Free Registration' tab and a new window will show on your PC or mobile screen.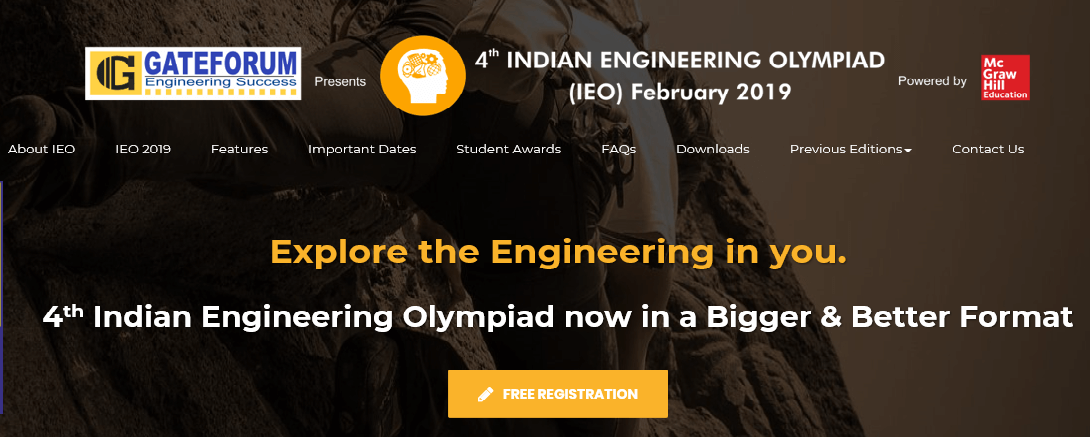 Process of Registration -
Now your registration page is here, enter all your accurate details in order to submit your application.
First fill your personal details such as Name, Mobile Number, and a verified Email Id.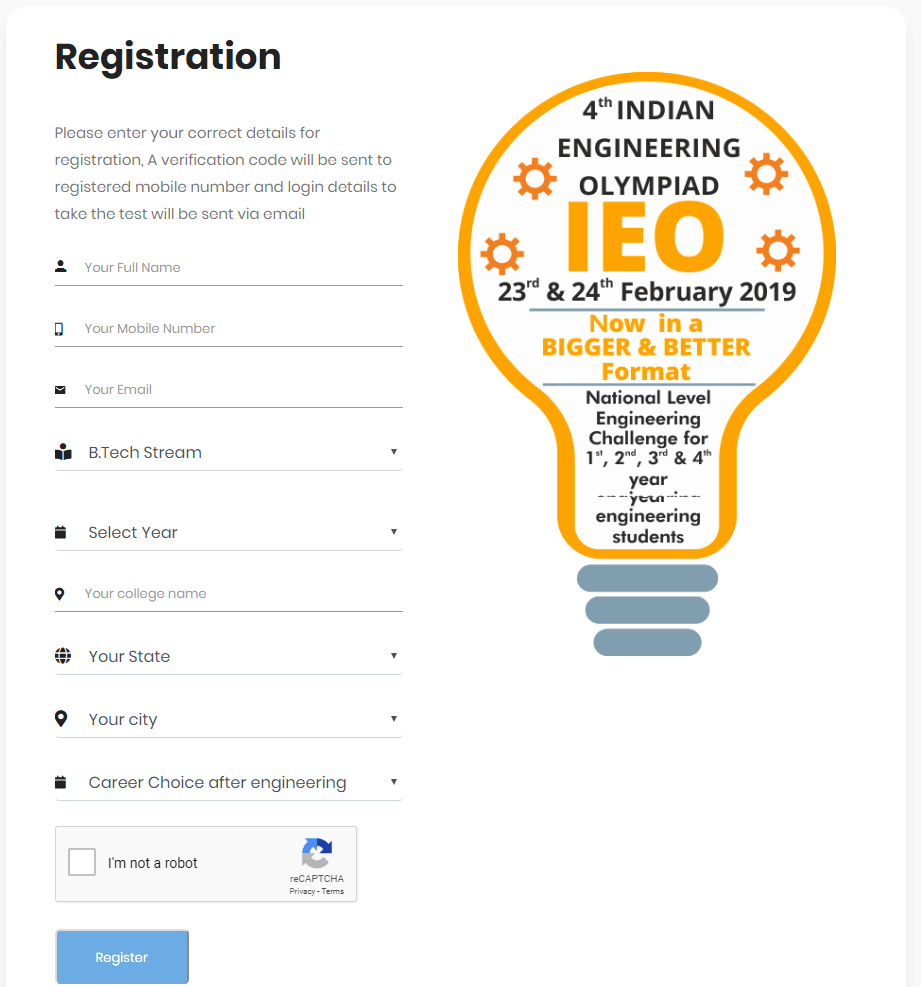 After this choose your B. Tech Stream and Year of Course.
Apart from this, a candidate has to enter their college name and select their state & city of the living.
Finally, fill your reCAPTCHA details and tab on Register button.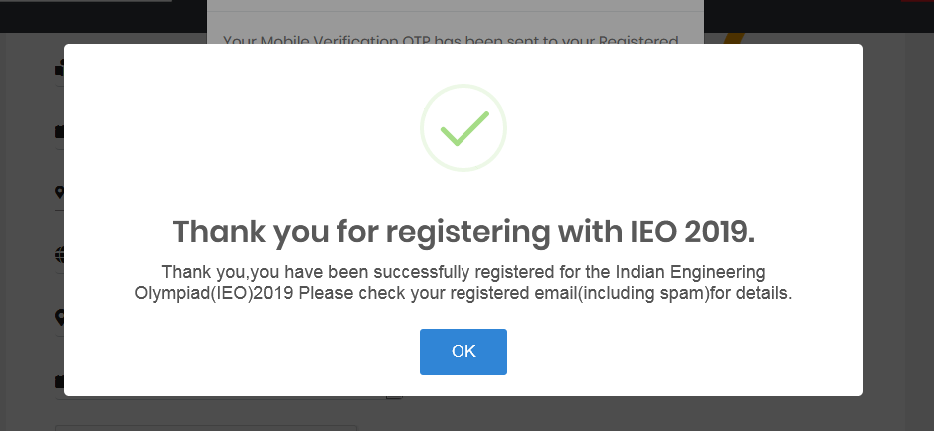 Note: All the applications will be submitted via online mode only. This time no application fees will be charged by the students.