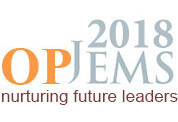 OPJEMS Scholarship 2018 for Engineering and Management Students
O.P Jindal Charitable Trust offers the O.P Jindal engineering and Management Scholarship (OPJEMS). It aims at recognizing meritorious students who showcase potential to become leaders in entrepreneurial and innovation fields. This year the trust will offer scholarships to 100 such candidates. The scholarship award helps students to complete their undergraduate studies in India.
OPJEMS Scholarship: Quick Overview

Deadline
31 Aug 2018
Class / Course
Undergraduates
Scholarship Type
Under Graduate
Awarded Amount
Age Limit
N/A
Gender
All
Religion
All
State
All
Country
India
Apply Now
Click here
Eligibility Criteria
The eligibility criterion is different for engineering and management students.
For Engineering Candidates
The first 3 toppers of 2nd, 3rd and 4th year according to their academic performance in the last year of the following streams can apply:-
Electrical Engineering
Mechanical Engineering
Civil Engineering
Metallurgical Engineering
Management Students
The first 10 toppers of the 2nd year according to their academic performance in the 1st year of the MBA/PGDM course can apply.
Benefits under OPJEMS
A total of 100 scholarships are available under this program.
Engineering candidates will receive ₹80,000 along with a medal and certificate.
Management students will receive ₹1, 50,000 with a medal and certificate.
How to Apply
Click here to open the registration form.
Carefully read all the instructions before starting the fill the form.
Enter your personal details, qualifications and bank details.
Do not leave any blank space.
Lastly, submit the form.
Selection Process
There are different stages of the selection process:-
Stage 1 – Online Test consisting of 2 parts.
Part A: Behavioural Test to determine your leadership competencies
Part B: General Awareness Test about O.P. Jindal Group (as per information available on various websites of the company).
Duration of the Test: 1 hour
Stage 2 – Personal Interview
Candidates shortlisted after Stage 1 will go through an interview round. The interviews will take in different cities like Delhi, Mumbai, Bangalore, and Kolkata.
Important Dates
| | |
| --- | --- |
| Event | Date |
| Last Date to Apply | 31st August 2018 |
| Date of Online Test – Stage 1 | 5th and 6th September 2018 |
| The result of Stage 1 | 14th September 2018 |
| Date of Interview – Stage 2 | 10th,11th and 12th October 2018 |
| Final Result Announcement | 23rd October 2018 |
Scroll left or right to view full table
Terms and Conditions
It is a merit-based program, not merit-cum-means based.
Students will receive technical support during the online test. In case a student is unable to take the test due to IT issues, the invigilator will provide him/her with a pen-paper.
If a candidate is unable to take the exam on the given date due to a medical/ another valid emergency, he/she may take the exam on 7th September 2018.
The time and date assigned for the online test and interview are final.
A candidate's performance in Stage 1 and Stage 2 holds a 50-50 weight age.
The result announcement of both stages will take place on the official website: www.opjems.com