Early Success Merit cum Means Scholarship for Class 6th to 12th Students
Last Updated : 04 Jul 2018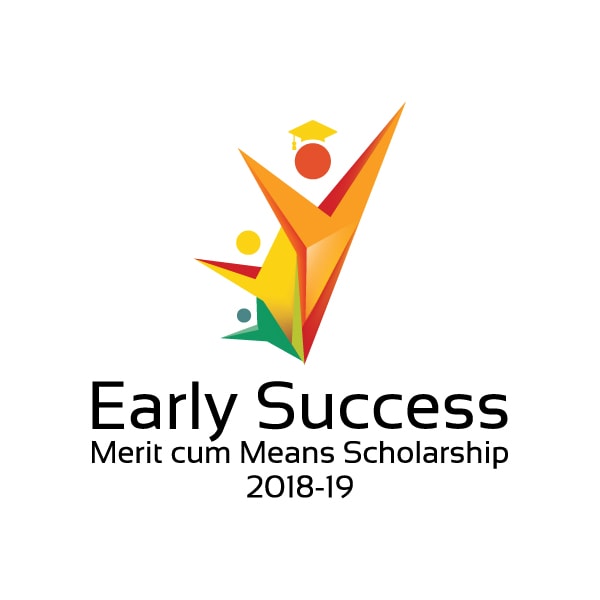 Early Success Merit cum Means Scholarship 2018-2019: Quick Overview

Deadline
15 Jul 2018
Class / Course
Class 1, Class 6, Class 7, Class 8, Class 9, Class 10, Class 11, Class 12
Scholarship Type
School
Awarded Amount
Reward is provided according to the student's needs
Age Limit
11 - 18 Years
Gender
All
Religion
All
State
All
Country
India
---
---
Early Success Merit cum Means Scholarship 2018-19 welcomes applications from students of class 6th to class 12th. It is an initiative to help worthy students who belong to the underprivileged segment of the general public. The annual family income of the student must be below 2 lakhs in order to apply in this scholarship program. Both age limit, as well as the income level, is verified before handing over the scholarship to the candidate.
Eligibility Criteria
Students from class 6th to class 12th are eligible for this scholarship program
A score of 75% or more in the last examination.
The annual income of the parent or guardian of the beneficiary should not exceed ₹2 lakhs from all sources.
Present attendance percentage of 75% or more.
Guidelines to Apply
Visit the official website: b4s.in
Create an account using your Facebook, Google Plus or Email account or simply log-in if you already have an account.
Start filling the form by clicking on the "START APPLICATION" button.
After completing the form, attach the Income and Caste related documents.
Click on 'Submit'.
You will shortly receive an Email Confirmation.
Benefits of Early Success Merit cum Means Scholarship
The program is conducted by the official Ministry of Scholarship
It offers more than 500 scholarships
Highly beneficial for students who find it difficult to afford school fees.
Students can apply through both online as well as offline mediums.
Scholarship amount and reward is offered as per candidate's needs.
Required Documents for the Scholarship
Previous year's mark-sheet of the student
Bank details of the Institution for online transfer
Copy of Family Income certificate
Identity Proof
* Note: The payment of this scholarship program is at provider's sole discretion. It is an ongoing process and the provider holds the right to make changes to the scholarship.
Important Details -
The last date of application submission has been extended from 15th June 2018 to 15th July 2018 now.
---
Subscribe Now for Early Success Merit cum Means Scholarship 2018-2019 Latest Updates
Subscribe for latest exam notification and never miss an update of our daily tips and tricks from Toppers and Counsellors.
---
---