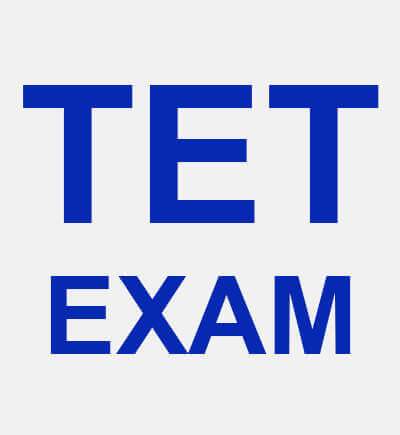 TET (Teacher Eligibility Test) is a compulsory examination in all Indian states for the recruitment of teachers at primary and middle-level classes in government schools. However, it is just one of the eligibility requirements. Candidates need to fulfil the other eligibility criteria laid down by the respective schools for selection. The exam is conducted at both central and state levels. The minimum eligibility for appearing in the exam is graduation and degree/diploma in Elementary Education. The exam is conducted yearly, twice a year, or once in two or three years on the basis of vacancies available for teaching posts in government schools. For details such as TET 2021 application process, eligibility, exam pattern, syllabus, admit card, result, and more, check out the complete article.
The Teacher Eligibility Test (TET) is conducted at two levels:
Central Level
State Level
The exam conducted at the Central level is known as Central Teacher Eligibility Test (CTET) and those conducted at the state level are known as Teacher Eligibility Test with state name as Prefix. For instance; Uttar Pradesh Teacher Eligibility Test (UP TET), Punjab TET, Himachal Pradesh TET (HP TET), etc.
CTET Previous 5 Years Solved Papers (Paper 1 & Paper 2) Get it Now
CTET 2021 - Central Teacher Eligibility Test
CTET is conducted by the Central Board of Secondary Education (CBSE) and is applicable to/valid for schools under Central Government (such as KVs, NVs, Tibetan schools, etc.) and schools under the administrative control of Union Territories of Chandigarh, Daman & Diu, Dadra & Nagar Haveli, Andaman & Nicobar Islands, Lakshadweep, and NCT of Delhi.
Unaided private schools have the option of considering CTET score for their recruitment proce8ss.
Any state government may also consider the CTET score if it decides not to conduct the state level TET.
The CTET score remains valid for seven years. However, there is no restriction on the number of attempts. Candidates can appear for the exam within seven years for improving their score.
If you are interested in becoming a government teacher; read on to know about the exam pattern, syllabus, important dates, etc. related to the Teacher Eligibility Test. The details provided here are as per the CTET exam as the pattern and other details of the state level exams are drafted in accordance with the Central level exam.