Tropical Andamans Travel Scholarship 2020: Get Free Tour Package at Andaman Nicobar
Last Updated : 25 Feb 2020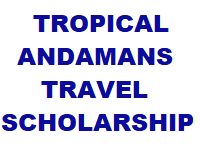 For a travel freak enthusiast adventurer who has a passion for voyaging or traveling, the Tropical Andamans is inviting applications for the 2020 sessions of Tropical Andamans Travel Scholarship from the fanatical students of India. The scholarship aims to transform the arena of outdoor adventure and attract explorers for roving.
The annual summit of Tropical Andamans Scholarship 2020 offers an opportunity for the school, college or university aspirants and supports them to triumph a scholarship of USD 1000 for the duration of complete 1-year.
Tropical Andamans Travel Scholarship: Quick Overview

Deadline
15 Dec 2020
Class / Course
School, College
Scholarship Type
Skill Based Scholarship
Awarded Amount
Scholarship allowance up to USD 1000 and a Tour Package to Andaman Nicobar
Age Limit
N/A
Gender
All
Religion
All
State
All
Country
India
Apply Now
Click here
---
---
Under this yearly program, the institution came forward to provide assistance and make the efforts of journeying much more easier for voyagers. The Tropical Andamans Travel Scholarship 2020 is an occasion that will be presented once in a year and this time it is likely to start the application submission from 24th April 2020 to 15th December 2020.
More About Tropical Andaman Travel Scholarship
The exceptional proposal of Tropical Andamans Travel Scholarship 2020 is designed with a motive to boost the thrill and adventurous side of a commuter and make them more inspired and enthused about the career of voyaging guide. Though this scholarship student gets a chance to travel around the ground of Andaman Nicobar and capture the beauty of place through their eyes.
Tropical Andamans Travel Scholarship 2020 – Available Benefits
The Scheme has come up with an image to inspire young budding students towards the world of peripatetic and make travel devotee more independent. Through Tropical Andamans Travel Scholarship, students will get the opportunities as follows:
Winner will be awarded the cash prize of USD 1000.
Apart from this, the qualified scholar will also get a tour package of Andaman Nicobar.
Who can apply for Tropical Andamans Travel Scholarship?
For the annual summit of Tropical Andamans Scholarship 2020, an applicant must be fulfilling the following eligibility criteria.
An applicant must be studying in any Indian high school, college or university.
Should have zeal about travel.
How to Apply?
The application process of Tropical Andaman Scholarship will be done by simply follow the below mentioning procedure. The course of application is divided into three stages:
Stage 1: Interested participants need to write a 600-700 words proposal which stated the explanation of applicant's travel experiences or tips needs to follow while traveling.
Stage 2: Submit your scholarship proposal in a Word document (.doc) file with the following details:
Personal Details such as Name, Address, Contact Details, and Email Id)
Area of study
Proof of school or university enrolment with the information about the institute which the applicant attends
Stage 3: Finally send your applications to [email protected]
Important Dates of the Scholarship:
The Tropical Andamans Travel Scholarship is offered once a year. For 2020 session, the dates have been not announced yet; however, the Tropical Andamans application process is tentatively to begin from 24th April 2020 and will close on 15th December 2020. The results for the same will disclose on February 2021. Stay connected with ExamsPlanner to get complete details.
Criteria of Selection – Tropical Andamans Travel Scholarship
Under Tropical Andamans Travel Scholarship all the applications will be evaluated and selected truly on the basis of the scheme of a proposal. Aspiring candidates who are very adoring about traveling around and have creativity and uniqueness with the proposal topics will be given preferences.
---
Subscribe Now for Tropical Andamans Travel Scholarship Latest Updates
Subscribe for latest exam notification and never miss an update of our daily tips and tricks from Toppers and Counsellors.
---
---