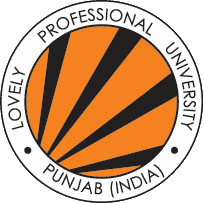 Lovely Professional University
Lovely Professional University is a well-established Private Deemed University at the location in Jalandhar, Punjab. This 600 Acres college offers an educational background from the year 2005 for the potential state or national level candidates. The high-tech premises of LPU offer a sophisticated surround in terms of classes, students-teachers relations, and academic activities. Apart from this, the institution holds a graph and ranked as the largest university in India which offers - several UG, PG, Diploma, and Doctoral level programs. All the courses will be available in subjects like - Management, Law, Engineering, Fashion Design, Architecture, Economics, Home Science, etc.
Apart from this, more than 200 universities such as UK, Australia, Croatia, Spain, US, and Poland are a part of the premises of Lovely Professional University.
Discussing about its affiliations and associations in India, the academy is recognized by the UGC Platform, the Council of Architecture (COA), and the National Council for Teacher Education (NCTE). Whereas the campus ground is approved by the Pharmacy Council of India (PCI) and associated with the Association of Commonwealth Universities (ACU).
List of Courses Offered by Lovely Professional University 2019
| | | |
| --- | --- | --- |
| Subjects | Undergraduate Program | Postgraduate Program |
| Engineering | B. Tech, and B. Tech + M. Tech (Integration) | M. Tech |
| Management | BHMCT, BBA | MBA |
| Arts | BFA, B.A, B.Lib.Sci., B.Ed. | M.Lib.Sci., M.A, M.Ed. |
| Commerce | B. Com. | M. Com |
| Medical | B. Pharm., BPT | M. Pharm., MPT |
| IT | BCA | MCA |
| Science | B. Sc. | M. Sc. |
| Architecture | B. Plan, B. Arch | M. Arch, M. Plan. |
| Law | LLB, BBA+ LLB, BA+ LLB | LLM |
Scroll left or right to view full table
Benefits of Study at Lovely Professional University
Students who want to take admission in LPU, Jalandhar faces so many benefits in order to join courses in the premises of the institution. Every year the application process for different courses conducts by the college ground and invites commendable students to submit their entries in this high-tech university.
The institution provides so many benefits for the admission seekers who have a desire to complete their higher studies at the campus ground of this specialized university. Let's take a look at the various factors which makes this university more beneficial for young dynamic fellows.
This 600 acres spread state university has a fully air-conditioned campus building.
Holds AAA rating as the best campus structure with facilities in the country.
This private college has come under the approval of UGC.
Campus Facilities- Discussing about campus amenities, it offers a Boys and Girls a separate hostels, section of Gyming, Sports Complex, Medical and Hospital Facilities, Transportation, Big Library Room, Cafeteria, fully Wi-Fi enabled campus, Auditorium Room, etc.
Why Choose Us?
The Lovely Professional University is considered as one of the eminent institutions which offer quality education across the nation. The college is established in 2005, with the advancement of technology the college is organized by the 2200 faculty members. This outstanding college is famous for its learning program which helps students to get all the information of the particular subjects with a wide exposure.
Currently, the academy offers 16 Undergraduate, 14 Postgraduate, and 7 Doctorate level courses for the residents and non-residents of the country.
Distance Education Program
The Lovely Faculty of Distance Education offers a medium of education which is circulated under the guidance of experienced faculty members. Students who want to experience the wide exposure of full-time courses presented by the different departments of the institution can enroll their entries.
With the Distance Education facility of the college, the experience of learning has become smoother for those students who won't be able to pursue regular college. Now candidates can complete their studies simply by sitting at home.
These courses are proffered by the Lovely Faculty of Distance Education (LFDE):
Commerce
Arts
Computer Application
Information Technology
Management
Library & Information Sources
Glimpse of Lovely Professional University, Punjab
| | | |
| --- | --- | --- |
| S. No | Categories | Quick Facts and Figures about the Institute |
| 1. | Name of the College | Lovely Professional University |
| 2. | Location | Jalandhar, Punjab |
| 3. | Type of College | Private |
| 4. | Approved by | Pharmacy Council of India |
| 5. | Recognized by | UGC, COA, and NCTE |
| 6. | Applicable Exams | IIT JEE Main Exam, GATE, CAT, XAT, CMAT, NATA, CLAT, GMAT, LPUNEST Exam |
| 7. | Courses Offered | B.E., MBA, Civil Engineering, Electrical and Electronics Engineering, MCA, M. Tech in various streams, PhD and other Doctorate level Programs |
| 8. | Mode of Application | Online |
| 9. | Total Faculty Members | 2200 |
Scroll left or right to view full table
The semi-residential university admits students in the regular courses through LPUNEST or equivalent state or national level exams. After this students need to go through with the personal interview round or group discussion round. Students who belong to the North-East zone get the extra benefit of 5% relaxation in their eligibility. The admission will be completed by the exams as follows-
B. Tech or B.E Courses – LPUNEST, JEE Main
MBA- CMAT, CAT, XAT, GMAT, LPUNEST, MAT
B. Arch- NATA Score, JEE Main
LL.M.- LPUNEST
B. Pharma- LPUNEST
Integrated B. Tech + M. Tech in Computer Science and Engineering- LPUNEST, JEE Main
BBA (Hons)- LPUNEST
PhD- LPUNEST
B.Sc in Fashion Design- LPUNEST
Important Dates of LPUNEST 2019
Lovely Professional University Admission Schedule 2019 (Tentative)

Events

Date of Commencement

Commencement of Online Application Process

In the month of Oct 2018

Dates of Entrance Exam

21st Jan- 5th Feb 2019

Final submission date (for B. Tech)

20th Jan 2019- 31st March 2019

Booking of a slot for online exam

Dec 2019- March 2019

Declaration of Results

Feb 2019- May 2019

Online counseling and seat allocation

May 2019 onwards
Scroll left or right to view full table
Process of Counseling
| | | | |
| --- | --- | --- | --- |
| Round of Counseling Process | Filling of Preference | Declaration of Allotted Seats | Process of Admission |
| Round 1 | 4th May to 9th May 2019 | 10th May 2019 | 10th to 16th May 2019 |
| Round 2 | 12th May to 15th May 2019 | 17th May 2019 | 17th to 20th May 2019 |
| Round 3 | 17th May to 20th May 2019 | 21st May 2019 | 21st to 31st May 2019 |
Scroll left or right to view full table
LPU 2019 Admission Eligibility -
In order to know the eligibility criteria of different courses, students need to scroll down this page. I this article the candidates get all the latest information about the admission process and eligibility for all courses.
Eligibility for Bachelors Program Courses-
For B. Tech and B.Arch, a candidate needs to secure 60% marks in class 12th examination.
For Agriculture Engineering, he/she must be a student of PCM stream.
Courses like BSc and BBA have an eligibility criterion of 50% marks in class 12th.
Eligibility for Masters Courses-
Programs like MBA, applicants need to pass their bachelors with the sum total of 50% marks.
For MCA, 60% marks in the bachelor's degree or equivalent.
Subjects like M. Tech or equivalent demands that the candidate must obtain 60% in the relevant subject of Bachelor's degree.
LPU 2019 Courses: How to Apply
The campus site of Lovely Professional University every time conducts its own entrance examination named as LPUNEST and LPUPET for the bachelor's and master's level courses. Enthusiast students who wish to pursue higher studies from the premises of LPU can apply.
LPU Admission Form 2019 -
Go to the authorized website of Lovely Professional University.
Click on 'Apply Now' tab and Register your entry.
Fill all the necessary details and complete your registration process.
After this, again log in with your verified credentials and choose your course and apply online.
Pay the requested fee amount and submit your application form.
Note: Applicants can pay the admission fee via online or offline mode. In order to pay the examination fee offline, applicants need to make a cash deposit at Bank in University Account/ Cash Deposit at the University Campus/ Demand Draft. The DD can be submitted personally at:
Lovely Professional University,




Jalandhar- Delhi G.T. Road,




Punjab (INDIA) – 144411
Other Details
Postal Address

Lovely Professional University, Jalandhar - Delhi G.T. Road, Phagwara, Punjab (India) - 144411

Email Id

[email protected] (Admissions)

[email protected] (International Admissions)

[email protected] (General)

Phone Number

+91-1824-404404

Toll Free Number

1800 102 4431

Fax

+91-1824-506100 (Admission)

+91-1824-506111 (General)
Scroll left or right to view full table