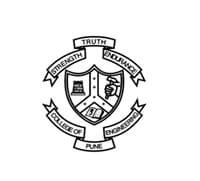 About the College

Basic Information

Name

College of Engineering

Location

Shivaji Nagar, Pune

Score Accepted

MHTCET

Ranking

22

Approval

AICTE.

Address & Contact

Wellesley Road, Shivaji Nagar, Pune, Maharashtra, India- 411005

Website: www.coep.org.in

Placement

All candidates get placed with reputed companies.

Companies coming for placement

Some of the well-known companies coming for campus placement are- IBM, Tech Mahindra, Infosys, Wipro, Patni Computers, ZS Associates, Amdocs, Tata Motors, Informatica etc.

Average Salary offered

6 lacs per annum.
Scroll left or right to view full table
B.Tech/ B.E Courses available at College of Engineering
| | | |
| --- | --- | --- |
| Courses Available | Fee (in ₹) | Duration |
| B.Tech in Civil Engineering. | 2,61,000. | 4 Years. |
| B.Tech in Mechanical Engineering. | 2,61,000. | 4 Years. |
| B.Tech in Electrical Engineering. | 2,61,000. | 4 Years. |
| B.Tech in Computer Engineering. | 2,61,000. | 4 Years. |
| B.Tech in Electronic and Telecommunication Engineering. | 2,61,000. | 4 Years. |
| B.Tech in Instrumentation and Control Engineering. | 2,61,000. | 4 Years. |
| B.Tech in Mettalurgical Engineering. | 2,61,000. | 4 Years. |
| B.Tech in Production Engineering. | 2,61,000. | 4 Years. |
Scroll left or right to view full table
M.Tech/ M.E Courses available at College of Engineering
| | | |
| --- | --- | --- |
| Courses Available | Fee (in ₹) | Duration |
| M.Tech | 1,83,000. | 2 Years. |
Scroll left or right to view full table