GATE 2022 Exam Pattern, Paper-wise Pattern & Marking Scheme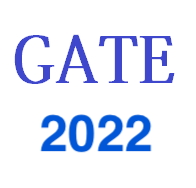 The Graduate Aptitude Test in Engineering (GATE) will be conducted for 25 subjects and every candidate has to opt for one subject. For all subjects, there are a total of 65 questions of 100 marks which a candidate has to attempt in 3 hours duration. For a detailed GATE Exam Pattern 2022, read the complete article.
GATE is a Computer Based Test (CBT) with Multiple Choice Questions (MCQs) and Numerical questions. Candidates are required to select answers for MCQs and use a virtual mouse and keyboard for entering answers to numerical questions. Blank sheets are provided for rough work.
The GATE 2021 exam was scheduled for 6th, 7th, 13th, and 14th February 2021. The exam was conducted in two shifts - Forenoon (9:30 AM to 12:30 PM) and Afternoon (3:00 PM to 6:00 PM). The registration process started on 11th September 2020. As per the 2021 dates, the official notification for the GATE 2022 exam will be released in September 2021.
---
GATE Exam Pattern 2022
The GATE Exam Pattern is different for different subjects.
Here is the pattern for the GATE examination.
For papers with codes AG, AE, BT, CH, CE, CS, EE, EC, IN, ME, MT, MN, PI, TF and XE:
| | |
| --- | --- |
| Sections | Marks |
| General Aptitude | 15 |
| Engineering Mathematics | 15 |
| Subject Paper | 70 |
| TOTAL | 100 |
For papers with codes AR, EY, CY, MA, GG, XL and PH:
| | |
| --- | --- |
| Sections | Marks |
| General Aptitude | 15 |
| Subject Paper | 85 |
| TOTAL | 100 |
Marking Scheme
For Multiple Choice Questions carrying 1 mark; 1/3 mark will be deducted for a wrong answer and for MCQs carrying 2 marks; 2/3 mark will be deducted. There is no negative marking for wrong answers in numerical type questions.
Design of Questions
Questions in the GATE entrance exam are designed to test the following skills:
ANALYSIS AND SYNTHESIS
Diagrams, data, charts, images etc. are included in the questions. Candidates have to analyse them before answering the question.
APPLICATION SKILLS
Questions are framed to test the practical applicability or logical reasoning of the candidate.
Example
Q. The subsequent depth ratio of a hydraulic jump in a rectangular channel is 16.48. The Froude number at the beginning of the jump is:
8.0
5.0
12.0
10.0
COMPREHENSION
Questions are included to test the candidate's basic understanding of the subject.
Question: A DC motor requires a starter for
compensating for auxiliary field ampere turns
limiting armature current at starting
developing a starting torque
providing regenerative braking
RECALLING
Candidates recalling skill is checked by framing questions on facts, formulae, principles or laws related to the subject. This type of questions test your memory.
Q. During machining maximum heat is produced
in rake face
in flank face
in shear zone
due to friction between tool and chip
Practice as many mock tests as you can for GATE Entrance Exam 2022 so that you get a good idea about the exam pattern. If any changes are introduced in the exam pattern, the same will be updated here.
All the Best!
---
---
---