By passing class 12th students complete just one phase of their learning. After that begins a more advanced period of learning, in which students should enter carefully. Better if they do career counselling. Teachers, friends and parents are good career counsellors, but they usually suggest traditional careers to opt for. Depending upon one's ability and interest, it is important to make a right career selection at the right time. Nowadays students evaluate any job from a financial angle. They like to opt for such careers where they will be paid well. Here we are listing some of the Top 5 Highest Paid Career Options after Class 12th –
Architecture
Today, urbanisation is the most cherished goal of any government, especially those in developing countries. Urbanisation in action translates into town planning, the building of civic amenities, construction, malls, hospitals, hotels etc. It is the central theme of all developments. In other words, architecture is an evergreen field. An architect not only gets a higher salary but can also start his/her business firm or consultancy.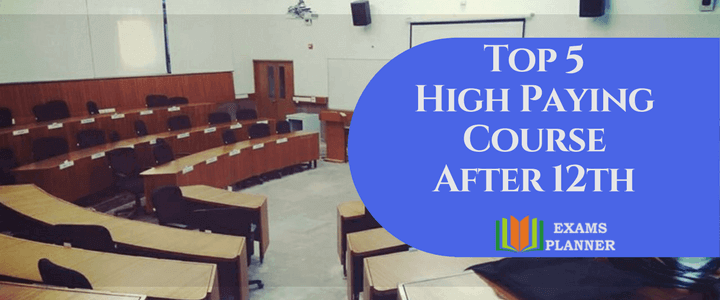 B. Arch is a 5-year degree course. To get admission into this course, a student is required to appear for the NATA (National Aptitude Test in Architecture). Only those students are eligible to appear for the NATA who have done their class 12thwith Physics, Chemistry and Mathematics.
Read more about Architecture exams and colleges - Click Here
Navy
Higher pay, better perks and a great life, these terms are mostly associated with the Merchant navy. This field has always attracted young men and women. It is a dream of many young hearts to live the high sea life and drive the big vessel. They can become Navigation in-charge, Marine engineers, Captain, Electro-Technical officer etc.
Interested students should do B.E/B. Tech in Marine Engineering from recognised colleges. Students should be physically fit.
Read more about Navy exams and colleges - Click Here
Chartered Accountancy
Chartered Accountancy is one of the most popular courses among commerce students. After class 12th, most of the commerce students undertake this arduous career option. Chartered accountants are responsible for keeping the financial activities of companies and corporate houses in check. They are legal, finance experts who help companies to work within the legal sphere. Most of the corporate houses employ Chartered accountants. Experienced Chartered accountants can work independently as consultants.
Students are required to clear 3 stages, namely CPT (Common Proficiency Test), IPCC (Integrated Professional Competence course) and final exam to become a Chartered accountant. What is worth knowing that Chartered accountants are offered very high starting salary packages compared to other fields.
Read more about Chartered Accountancy - Click Here
Commercial Pilot
To fly high in the sky is the most common childhood dream. As children, we don't know to convert our dreams into a reality. But as a grown-up person, one can realise this dream of becoming a commercial pilot.
Commercial Pilot is one of the most popular courses among youngsters. High pay, the opportunity to fly across the world and unlimited adventures are some of the pull-factors associated with this career. In recent years many private institutions have mushroomed that are offering Commercial pilot courses. But one should be careful while selecting the college or institution for receiving training. Unfortunately, this course charges very high fees from students, especially during training. Students are charged 10- 20 lakhs for their training in piloting. Luckily, many banks have come forward to give financial assistance to students in this regard.
Read more about commercial Pilot - Click Here
B.Sc in Computer Science
After class 12th, B.Sc in Computer Science can be another good career option for science stream students. They can become software engineers and get jobs in MNC's at very high salary packages. Besides, they get excellent work-culture to work and grow. The HR policies are equally superb in these MNC's which make employers life more relaxed and comfortable. Employees are also given the opportunity to visit abroad.
Still not found what you were looking for? Exams Planner team has composed top courses after 12th list check them out to find a right career - Click Here.