Multimedia Courses After 12th in 3D Animation, VFX And Game Design
Not all students want to become a doctor, engineers or bureaucrats. Creatively gifted children want to do something interesting and different. They don't want to waste their lives in boring traditional careers. Gone are those days when there were limited career options for students. Nowadays, a student with creative zeal can pursue Animation and Multimedia courses. They can fully realize their creative potential by entering into this domain.
Animation and Multimedia Courses After 12th opens an altogether new world to students. The world where imagination rules. Images, characters, and fiction are enthused by life. They are imparted with the motion to give a sense of realism to them. Indeed, it's a creative highway leading to a great career.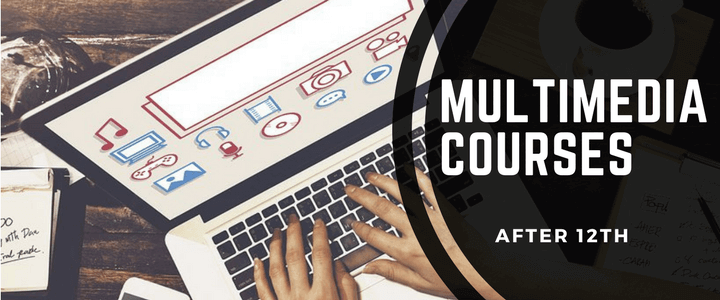 In recent years there has been remarkable growth in this field. The animation and multimedia industry posted a robust growth rate of 16% in the year 2016. This growth rate is expected to gather pace in the coming years. By becoming animators or multimedia experts, students can earn very handsome salary packages. They can get an ample amount of freelance assignments, like extra cheese, adding to their income.
Those students who have completed their class 12th and are yet to join any course can explore this interesting, creative and thrilling field of animation and multimedia. Some of the options available in this field are as follows-
Animation Expertise in 2D/3D
Animators are in huge demand in the media and entertainment industry. Entertainment channels, ad agencies, cartoon networks, news channels and production houses look for proficient animators' whole year. They are ready to pay high salary packages for suitable candidates. Animators through their technical skills can give an illusion of motion to imaginary characters. This can create realistically and life-like sequence of events in the imaginary world, be it in 2D (two-dimension) or 3D (three dimensions).
Depending upon one's interest a student can choose to acquire expertise in any one of the following skills in animation –
Audio-video synchronization
2D/3D animation
Technical Writing
Visual Design
Art direction and production
Author based programming
Interactive design,
Special effects addition
3D modelling
Interface design
Game design
Graphic Design
There are plenty of jobs for Graphic designers. They are mostly hired by publishers, advertising agencies, news agencies and marketing firms.
Graphic designing is a mode of communication of abstract ideas, thoughts, and imagination through images, words, and colours. A graphic designer is expected to possess strong visualization skills. He or she should be able to speak through creative arts.
Game Design
Gaming is a new passion of youngsters today. In the metro, buses and busy streets, one can easily spot such young men and women who are completely absorbed in their game. Thus, it is no wonder that the mobile and gaming industry is booming. It is growing at an astonishing rate of 30% every year. As per KPMG predictions, by 2020 gaming industry in India will grow to INR 45 billion.
Game design involves multifarious technical skills, along with creativity and analytical skills. The game designers update, conceptualize, design, develop and implement video games.
Product Design
Product design is a relatively new field of profession but is in huge demand in manufacturing and product design consultancies. This field deals with making improvements in already created products. It adds and subtracts such features into the products, which makes it more saleable in the market. It also aims at developing user-friendly products.
Visual Designing
Visual designing is the most interesting field of multimedia. It is essentially an art of storytelling with the help of technical tools, like typography, graphic designing, illustrations, colours, signs, etc. A student can opt to do web designing, graphic designing and video editing to make an attractive visual presentation.