Job Oriented And Latest Career Options With PCB Stream
Biology is one such science subject which arouses everybody's interest. To know about human anatomy, structure & functions of our brain, digestive system, cells, reproductive system and genetics, are the exciting topics to read. Many students hence do Class 12th with PCB (Physics, Chemistry, and Biology) subjects to get ample opportunities. However, an aim to become a doctor is the biggest reason behind the student's preference for Biology. But in order to take admissions in MBBS courses, you surely need to clear the NEET exam and score well. For all apprentices living under the misconception that the scope for PCB students is limited, it's time to wake up and smell the coffee.
Besides, MBBS/BDS, there are numbers of other career options that you can pursue. If you have a scientific bent of mind, you can opt for B.Sc. with Biotechnology, Microbiology or Biochemistry. If you are in a hurry to get a job with the handsome starting salary, then B. Pharma, B. Sc. in Nursing, B. Sc. in Radiotherapy, B. Sc in Nutrition and Dietician are best options for you. And if you are the one who wants to taste the excitement of studying the frontiers of science, then you can pursue B.Sc. in Genetics, Bio-informatics, Medical Technology and Biomedical science.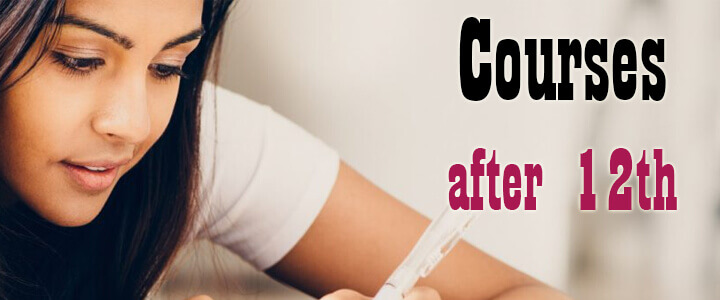 Most Promising Career Options for PCB Students After 12th
Well, if you are one of those who prefer biology, but don't want to follow the beaten path of a doctor, go through this article to find a perfect course which will brighten up your future.
Environmental Science
The study of environmental science is interdisciplinary intellectual fields that include Physical, Biological, and Information Science to the study of environment and provide enough solutions to environmental problems. Topics such as Chemistry, Biology, Geography, Physics, Social, and Earth & Marine Sciences are covered under the course.
Several top colleges for environmental science are as follows -
The National Centre of Biological Science, University of Delhi
Indian Institute of Environmental Management
Wildlife Institute of India
Tata Institute of Fundamental Research, Mumbai
Duration: 3 to 4 years for a bachelor's level and 1 to 2 years for a master's qualification.
Pay Scale: After completing the course students will get handsome salary package ranging between ₹ 3 Lakhs up to till 5 Lakhs per annum.
Bachelors of Homeopathy Medicine and Surgery (BHMS)
Nowadays people use homeopathic treatment as it contains all the natural remedies to cure your body. In this manner, if you are a biology student Bachelor of Homeopathic Medicine and Surgery is a great option for you. The degree covers all the medical knowledge of the homeopathic and enhancing the natural healing power of the human body.
List of top-notch institutes to pursue BHMS degree are as follows -
Government Homeopathic Medical College, Bangalore
National Institute of Homeopathy, Kolkata
Baba Farid University of Health Sciences, Faridkot
Bharati Vidyapeeth Homeopathic Medical College, Pune
Pt. Khushilal Sharma Government Ayurveda College, Bhopal
Scope: After the completion of BHMS, the career opportunity is availed not only in India but also in abroad. You should be placed as the Pharmacist, Scientist, Consultant, Lecturer, Medical Assistant, Therapist, Private Practice, Public Health Specialist, etc.
Salary Range: ₹ 40,000 to ₹ 50,000 per month for freshers.
Bio-Chemistry
Biochemistry is concerned with chemical and physic-chemical processes occur in a living organization. In other words, it can actually check and record the moments in your DNA, and cell development process. The field has offered immense opportunities in the industry of research.
Some of the Best Colleges for Bio-Chemistry in India are listed here -
Christian Medical College (Vellore)
Fergusson College (Pune)
University of Delhi (Delhi)
Presidency University (Kolkata)
Banaras Hindu University (Varanasi)
Salary Range: ₹ 30,000 to ₹ 40,000 per month.
Genetics
Genetics is an interesting field which comprises the study of genes, genetic variations, the heredity of living organisms and their functions. Variant topics such as Anomalies, Genetic Disease, Mutations, Traits, etc. will be studied by the professionals of this industry. Some top colleges of this field are:
Guru Nanak Dev University
The Oxford College of Science
Bangalore City College
Osmania University
Institute of Genetic Engineering
Career Opportunities: Jobs related to genetics include Forensic DNA Analyst, Geneticist, Clinical Research Associate, Immunologist, Medical Technologist, Research Scientist, Cytogeneticist, etc.
Marine Biology
It is the study of involving marine life & organisms, and their behaviours with the ecological system. The field of marine biology offers job opportunities in the field of Fishery Biologist, Researcher, Aquaculturist, Natural Resource Manager, Teaching, Fishery Biologist, etc.
Top Marine Biology Institutes in India
Centre for Atmospheric Science
University of Madras
National Institute of Oceanography
Indian Maritime University
Pondicherry University
Course Duration: The course will be completed within the duration of 3 years.
Starting Salary: ₹ 2.5 Lakhs to ₹ 4 Lakhs per annum
Zoology
It is a well-established branch of biology that involves the study of the animal kingdom. Those in the field of Zoology conduct research and analyse in the disciplines of life processes, physiology, genetics, and interactions of various species in details by observing animals in their natural habitats as well of laboratories.
Best Colleges in India Offering Zoology -
Delhi University
Christ University
Xavier's College
Oxford College of Science
Madras Christian College
Career scope: With a degree in this field, you can work as an animal breeder, wildlife biologist, researcher, wildlife rehabilitator, zoo curator, a professor in schools and colleges, etc.
Food and Agriculture
It is a field of knowledge consisting of several topics related to the understanding chemical process of plants and the production of food. Apart from this Food and Agriculture subject have a wide domain in the discipline such as food science & technology, agricultural engineering, horticulture, agronomy, dairy technology, etc.
Best Food and Agriculture Colleges in India
Govind Ballabh Pant University of Agriculture and Technology
Mahatma Phule Krishi Vidyapeeth
Andhra University
Acharya NG Ranga Agricultural University
Indira Gandhi Agricultural University
Maharana Pratap University of Agriculture
Career Opportunities: There is an extensive career growth for its pass out scholars. They can work as a full-time employee in the job profile such as process development scientist, agricultural consultant, product development scientist, agricultural management, dairy technologist, animal nutritionist, soil scientist, floriculturist, etc.
Apart from these courses, you can also avail other professional courses after the completion of Class 12th.
A detailed list of career options with PCB is enumerated below –
List of traditional career options with PCB

Bachelor of Dental Surgery (BDS)

B. Sc. In Bachelor in Veterinary Science

Bachelor of Unani Medicine and Surgery (BUMS)

B.Sc. in Botany

Bachelor of Ayurvedic Medicine and Surgery (BAMS)

B.Sc. in Anthropology

List of job oriented career options with PCB

Bachelor in Pharmacy

B. Sc. in Medical Science

B.Sc. in Nursing

B. Sc. in Medical Technology

B. Sc. in Physiotherapy

B. Sc. in Audiology

B. Sc. in Radiography

B. Sc. in Nutrition and Dietetics

B. Sc. in Occupational Therapy

B. Sc. in Speech and Language Therapy

List of latest career options with PCB

B. Sc. in Microbiology

B. Sc. in Bioinformatics

B. Sc. in Biotechnology

B. Sc. in Biomedical Science
Scroll left or right to view full table
All the above mentioning courses are just a small portion of all the specializations available after for PCB students. There are tons of job-oriented opportunities for you in the government as well as the private sector.
Also Read -