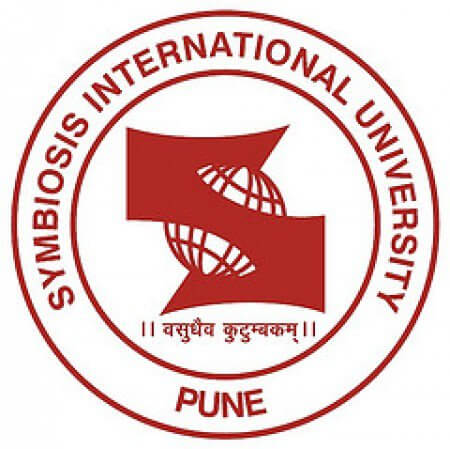 Complete Details about SNAP 2022 Application Process (Registration Process)
All the management aspirants who are waiting to apply for the SNAP exam 2022 are informed that the Symbiosis National Aptitude (SNAP) 2022 registration process has already been started. Symbiosis International Deemed University, on 4th August 2022, opened the application window, which will continue till 24th November 2022. The SNAP application process 2022 is entirely online. There is no provision for submitting the application form in the offline mode. It is mandatory to register for the test before proceeding ahead with the form filling. An applicant will only be considered eligible for the test if he or she has successfully submitted the form by paying the prescribed application fee.
Symbiosis International (Deemed University)
| | | | |
| --- | --- | --- | --- |
| 1 Application Form | 15 Institutes | 23 Programmes | 92 Test Cities |
Scroll left or right to view full table
Not every management aspirant can apply for the Symbiosis National Aptitude Online Test. An interested candidate is required to fulfil the eligibility criteria prescribed by SIU. Before you visit the website and register for the test, it is suggested to check whether you are eligible for the test or not.
SNAP Registration Process 2022:
There are basically four mandatory steps to follow for a hassle-free and successful SNAP registration 2022. They are –
Step I – Registration for SNAP Test
Step II – Make Payment for SNAP Test
Step III – Register for Institute Programme(s)
Step IV – Make Payment for Institute Programme(s)
[subscribe]
Complete Step-by-Step Instruction for Filling SNAP Application Form –
Step I – Registration for SNAP Test
Visit the official website of SNAP.
Click on the 'Register Now' button at the top right corner of the page.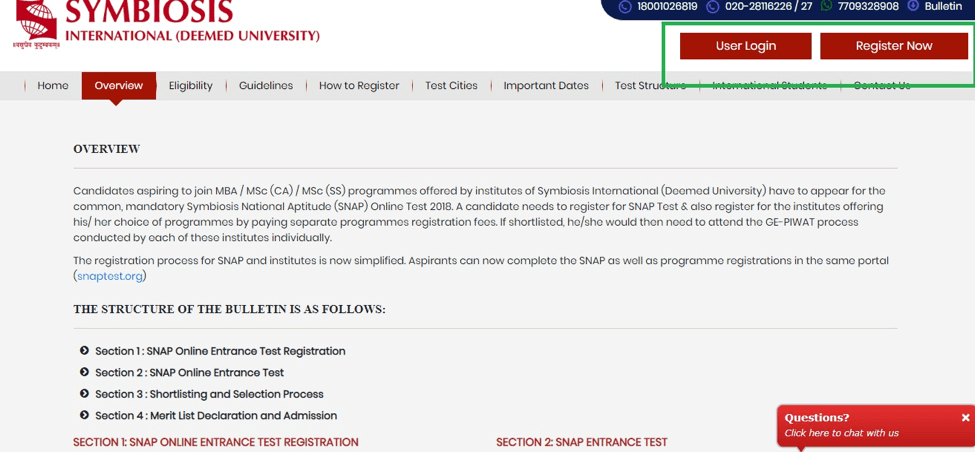 You will be directed to a new page where clicking on the 'I Agree' button is mandatory to complete the registration process. Clicking on the 'I Disagree' button will take you back to the previous page. (Before clicking on the I Agree button, read the instructions carefully to accept the Terms and Conditions)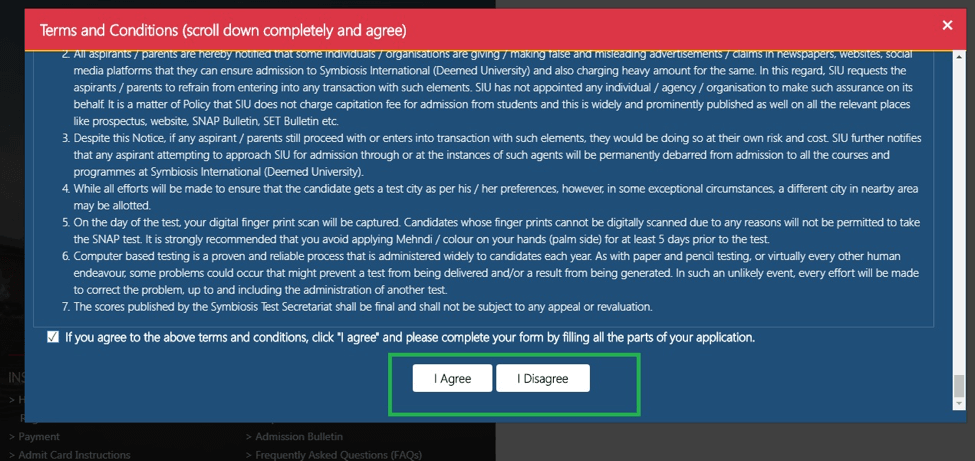 Now you have got to put compulsory registration information such as your name, date of birth, gender, the country code for mobile number, primary email ID, category, preferred test city, etc.
Now select the 'Save & Continue' button.
You need to validate your mobile number and verify the email ID by entering the OTP (sent to you upon selecting the Save and Continue button).
SNAP ID and Password will be sent to your registered email address and mobile number. The credentials should be used for all future communications regarding the entrance test and admission procedure.
Important Note: "Please verify your Name, Date of birth, Category and Photograph. Once saved, these details cannot be changed/altered."
Step II – Make Payment for SNAP Test
The amount to be paid as the registration fee is INR 1,950/-. The available payment options for the SNAP 2022 Online Test are as follows –
Online Payment
While making online payment either via credit card or debit card or net banking, ensure that the payment is done using these getaways - Billdesk Payment Gateway, Easebuzz Payment Gateway and Indian Bank Payment Gateway.
Offline Payment
The only mode of offline payment is through the Demand Draft (DD).
You must submit a DD of INR 1,950/- from a nationalised bank in favour of 'Symbiosis Test Secretariat' payable at Pune.
This can be done by clicking the 'Making Payment' tab, taking a printout of the same, i.e. the payment advice form, filling the DD details with the sign and sending the hard copy along with the Demand Draft to the below address
SYMBIOSIS TEST SECRETARIAT
SYMBIOSIS INTERNATIONAL UNIVERSITY
Gram: Lavale, Tal: Mulshi, Dist.: Pune – 412115
Phone: 020-28116226/ 27.
Note: It is the duty of the Secretariat to authenticate the DD and the hard copy filled with details. If everything is absolutely correct, it will send you the confirmation via email. Then only you can obtain the admit card. Ensure that the DD reaches the address mentioned above before 5 pm on 224th November 2022. DDs reaching after the mentioned date will ensure that the application form is rejected and the DD will return to the respective students.
Also, remember that 'SNAP Test fee and institute programme payment is non-refundable'.
Step III – Register for Institute Programme(s)
Also known as SNAP Part II registration process, this section lures candidates to fill in the details for Programme(s) and the Institute(s)
Step IV – Make Payment for Institute Programme(s)
Candidates are recommended to follow the similar process if opting for DD payment.
They need to make a separate payment of INR 1,000/- per programme. This amount is also non-refundable.
SNAP 2022 Institutes and Their Programmes:
SIU has 15 affiliated colleges where candidates can seek admission to their favourite programme.
Institutes

Programmes

Symbiosis Institute of Operations Management (SIOM, Nashik)

MBA (Operations Management)

Symbiosis Institute of Business Management (SIBM, Pune)

MBA

MBA (Innovation and Entrepreneurship)

Symbiosis Institute of Telecom Management (SITM, Pune)

MBA (Telecom Management)

Symbiosis Centre for Information Technology (SCIT, Pune)

MBA (Information Technology Business Management)

MBA (Data Science and Data Analytics)

Symbiosis Institute of International Business (SIIB, Pune)

MBA (International Business)

MBA (Agri Business)

MBA (Energy & Environment)

Symbiosis Institute of Health Sciences (SIHS, Pune)

MBA (Hospital & Healthcare Management)

Symbiosis Institute of Business Management, Bengaluru (SIBM, Bengaluru)

MBA

Symbiosis Institute of Computer Studies & Research (SICSR, Pune)

MBA (Information Technology)

M.Sc. (Computer Applications)

M.Sc. (System Security)

Symbiosis School of Media & Communication, Bengaluru (SSMC, Bengaluru)

MBA (Communication Management)

Symbiosis Institute of Business Management, Hyderabad (SIBM, Hyderabad)

MBA

Symbiosis Centre for Management and Human Resource Development (SCMHRD, Pune)

MBA

MBA (Infrastructure Management)

MBA (Business Analytics)

Symbiosis Institute of Media & Communication, Pune (SIMC, Pune)

MBA (Communication Management)

Symbiosis School of Banking and Finance (SSBF, Pune) (Formerly Symbiosis School of Banking Management)

MBA (Banking and Finance)

Symbiosis Institute of Management Studies (SIMS, Pune)

MBA

Symbiosis School of Sports Sciences (SSSS, Pune)

MBA (Sports Sciences)
Scroll left or right to view full table
SNAP 2022 Correction Window:
Sadly, SIU has no correct window for SNAP 2022. Application forms submitted with incorrect details or information will likely be rejected in the process. In the words of the University, "If any information provided by the candidate in respect of his category is found to be incorrect, the University shall have right to cancel the candidature of such candidate at any stage of the admission process".
What Next? Download SNAP Admit Card 2022:
Are you confident that the submitted application is error-free? The reason behind this question is that the Varsity will not entertain application containing wrong information. The application process will be over on 24th November 2022, and the University will release the SNAP 2022 admit card on the 5th and 10th December 2022. The admit card needs to be preserved well for the exam commencement day. Along with it, you need to carry any one of the following photo identity cards –
Pan card
Aadhaar Card (UID)
Driving License
Voter ID
Passport
Before turning up at the centre, make sure the SNAP hall ticket has the latest passport-size, colour photograph (not more than 3 months old). At the exam centre on the day of the test, SIU will have an authorised person to validate the admit card. Once authenticated, keep it safe for the GE-PIWAT process.
Note: 'If the Authenticated Admit card is lost, a duplicate Authenticated Admit Card will not be issued'.
SNAP 2022 Allotted Test Centre:
Sooner you submit the application form; better is your chance of getting the allotted test city. Completing the payment process before 21st October 2022 will get candidates the name of their preferred test centres. This further facilitates their travel plans. Students completing the payment process after 22nd October will be intimated about the test centers on 5th December 2022.
Once the test centres are allocated, make your move one day ahead of the test to avoid any unwanted issue. SIU will not bear the cost of travel and stay arrangements.
SNAP 2022 Eligibility Criteria:
This is quite important. Without checking eligibility, submitting the registration form will bring no good.
Nationality: If you are an Indian national, you can apply. If you are an OCI, NRI, PIO and FN candidate, you are eligible for the entrance test.
Academic Qualification: The qualifying exam for SNAP 2022 is graduation with minimum 50% marks (the reserved category candidates must have 45% marks)
SNAP 2022 Preparation Tips:
Start with the syllabus. General English, General Awareness, Analytical Reasoning and Quantitative Ability are the main subjects to be well-versed with.
Work on the weak topics.
Keep an eye on time management.
Revision of basic concepts is fruitful.
Try and practice mock test series.
[ad][/ad]
SNAP 2022 Exam Schedule:
| | |
| --- | --- |
| Exam Events | Dates (Announced) |
| Registration Starts | 4th August 2022 |
| Registration Closes | 24th November 2022 |
| Last Date for Payment | 24th November 2022 |
| Issuance of Admit Card | 5th and 10th December 2022 |
| SNAP Exam Commences | 10th, 18th, and 23rd December 2022 |
| Declaration of Result | 10th January 2023 |
Scroll left or right to view full table