How to Prepare for NEET-UG 2019? Tips & Tricks
The National Eligibility cum Entrance Test-UG, also known as NEET-UG, is an all-India exam conducted by the National Testing Agency (NTA) for admission to reputed government and private colleges in BDS and MBBS courses. NEET is considered as one of the toughest examinations in India. Therefore, students aspiring to study in the best medical college must work hard to ace the examination. The NEET 2019 exam will be conducted in the pen and paper mode on 5th May. If you haven't started the preparation yet, the below-mentioned smart preparation tips are just for you.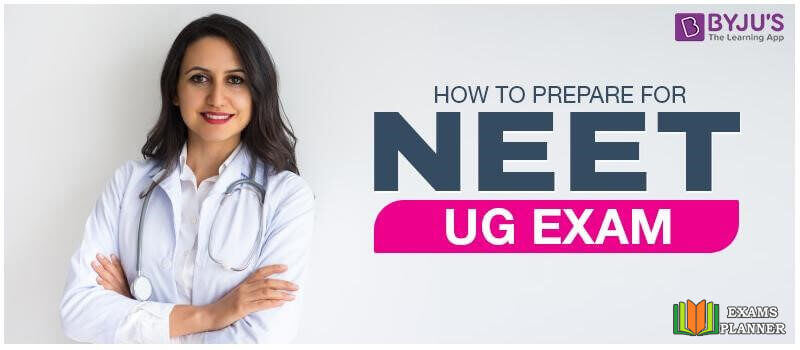 1. Know Complete NEET 2019 Syllabus:
The very first step that every aspirant should take is to know the complete syllabus of the NEET exam. Students can compare the CBSE Class 12 board exam syllabus with NEET's, which can be beneficial for them as they need not prepare for the common chapters separately. This will give them enough time to focus on the topics of the NEET syllabus that are not covered. The syllabus of NEET comprises topics from Class 11th and 12th Chemistry, Biology and Physics.
2. Make Proper Study Schedule:
After getting familiar with the NEET syllabus 2019, the next thing that aspirants should do is to make a proper study schedule to carry out the preparation effectively. Distribute equal time for all the subjects - given the fact that Physics is the toughest subject to prepare. Students are suggested to create a well-planned timetable and follow it strictly, which will help them to prepare for the exam in a better way.
3. Work on Weaker Sections:
Not everyone is good at everything. There are certain areas where you are strong and vice-versa. Don't get disheartened if you are weak in some sections. More and more practice will help you emerge victoriously.
4. Practice Question Papers:
One of the challenging hurdles in NEET 2019 is the time limitation. There are three sections in the exam, namely Biology, Chemistry and Physics, with a total of 180 questions. The time duration of the exam is 180 minutes, which means that students can only spend 1 minute per question. Time management is a mandatory skill required for the National Eligibility cum Entrance Test. This can only be improved by practising the sample papers and the previous year's question papers. Repeated practice will familiarise you with the marking scheme and the question pattern.
Now that you have the syllabus, divide the topics under Easy, Moderate and Difficult headings. Start with easy topics to boost your confidence and then move on to other topics. Make a daily study plan and follow it sincerely. To start with, you can make a weekly plan and then make a schedule for a month. Also, prepare a big one year plan.
Other Important Points:
Keep 10 minutes break between study sessions
Keep in touch with friends; it will help in releasing stress
Eat healthy, being sick means loss of study
Exercise, meditate or do yoga to stay active and improve concentration
Take proper sleep
Coaching or Self-study – Let's Know This:
Self-study can never be a choice; it is compulsory for an exam. The question should be self-study with coaching or without coaching. If you think that just joining a coaching institute is enough, you are wrong. On the question of joining a coaching institute, previous years' toppers are of the viewpoint that it helps in two ways - a competitive environment and expert guidance. And, a good coaching institute will also help in sticking to your daily study routine. So, decide wisely and don't be too selective in joining a coaching institute. Just do some research and join a good one.
These are some of the most effective tips and strategies that the NEET aspirants can follow while preparing for the toughest medical entrance exam.
NEET 2019 Application Process, Exam Dates and Other Details:
NTA will conduct the NEET 2019 examination in the offline mode, not online. The annual exam will be organised once a year, not twice. Earlier, NTA released a press release that it would host the National Eligibility cum Eligibility Test two times in a year. The complete exam schedule is mentioned below –
| | |
| --- | --- |
| NEET 2019 Exam Events (May) | NEET 2019 Important Dates (Announced) |
| Release of online application form | 01-November-2018 |
| Last date for filling application form | 3o-November-2018 |
| Issuance of admit card | 15-April-2019 |
| Exam to commence | 05-May-2019 |
| Result announcement | 05-June-2019 |
Scroll left or right to view full table
The NEET 2019 Application Process will begin from 1st November 2018. The process would be online.
---