Latest Current Affairs - 14th July 2018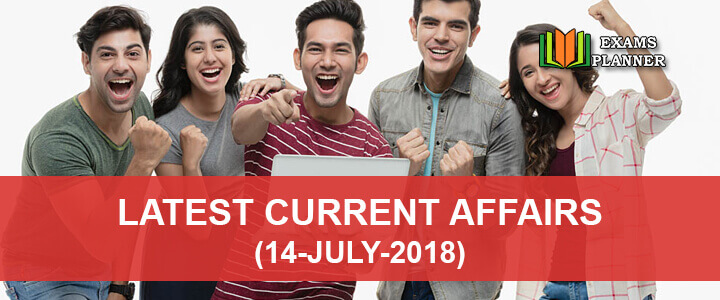 Q1. Who has been appointed as Director General of the Indian Council of World Affairs (ICWA)?
TCA Raghavan
Pritam Jain
Nalin Surie
Ranjan Kumar Mishra
Q2. Indian Army has recently signed a MoU with which Public Sector Bank on the Defence Salary Package?
Punjab National Bank
Bank of India
Bank of Baroda
State Bank of India
Q3. Dada JP Vaswani, the renowned Spiritual leader passed away. Who was his Guru?
PL Vaswani
GL Vaswani
TL Vaswani
ML Vaswani
Q4.Which state government has given in-principle approval for 'Seema Darshan' project for border tourism?
Sikkim
Jammu & Kashmir
Gujarat
Rajasthan
Q5. The play script "Hello Farmaish", which is being shortlisted for The Hindu Playwright Award 2018, is written by whom?
Manjima Chatterjee
Sneh Sapru
Alistair Bennis
Nayantara Nayar
Q6. India has become the newest member of the European Bank for Reconstruction and Development (EBRD). Where is the headquarter of EBRD?
Berlin
Paris
London
Geneva
Q7. How many MoU's have been signed between India and South Korea, recently?
12
9
11
15
Q8. Who receives lifetime achievement award at Seatrade 30th Anniversary?
Paul Hermelin
Ravi Mehrotra
Ashish Chemburkar
Charles Scharf
Q9. Who won the gold in the junior men's rapid fire pistol at 28th Meeting of Shooting Hopes international championship?
Anish Bhanwala
Matej Rampulla
Adarsh Singh
Anhad Jawanda
Q10. Who inaugurated the state-run power giant National Thermal Power Corporation Limited (NTPC) 250 MW Solar Power Plant in Mandsaur?
Smt Sushma Swaraj
Shri Narendra Modi
Shri Shivraj Singh Chauhan
Shri Arun Jaitley
Q11. Dr TCA Raghavan was appointed as the Director General of this department.
CIMA
ICSI
ACCA
ICWA
Q12. Which payment bank gets RBI Nod to resume taking New Customers?
India Post Payment Bank
Fino Payment Bank
Aditya Birla Idea Payment Bank
Airtel Payments Bank
Q13. The 37th Foundation Day of NABARD is celebrated on which date?
16th July
18th July
10th July
13th July
Q14. Hima Das, who has created history by becoming the first Indian woman to win a gold at the IAAF World Under- 20 Athletics Championships, belongs to which state?
Punjab
Assam
West Bengal
Jharkhand
Q15. The book "Aluminium: The Future Metal" has been authored by whom?
Anil Gopishankar Mukim
Aruna Sharma
Haribhai Chaudhary
Tapan Kumar Chand
Q16. India's first-ever metal craft exhibition was held in which city?
Leh
Ladakh
Srinagar
Chandigarh
Q17. Nina Tshering La has been appointed as the next Ambassador of India to which of the following?
Republic of Congo
Republic of Haiti
Republic of Laos
Republic of Venezuela
Q18. Who overtook the Alibaba Group founder Jack Ma to become Asia's richest person?
Mukesh Ambani
Wang Jianlin
Dilip Shanghvi
Lei Jun