Top 10 Professional Courses for PCM Students After Class 12th
Class 12th is a crucial juncture in your academic life. Your foray into any field will have a lifelong effect on your career. So you should venture cautiously. Also, it will be wise to consider all available options before exercising your will in favour of any particular career option. One common suggestion is to select the option which interests you. But what if, the job options related to your interest are less. So your decision should be practical and rational too. After all, it's a decision for life. A career option should be evaluated from the long-term perspective and on multiple counts. You should keep in mind several factors such as job opportunities, growth in the sector, average salary, the value of experience and the level of competition while taking career decision.
To make things easier, here is the list for students with PCM (Physics + Chemistry + Mathematics) subject combination. These are the top 10 professional courses for a PCM student after class 12th.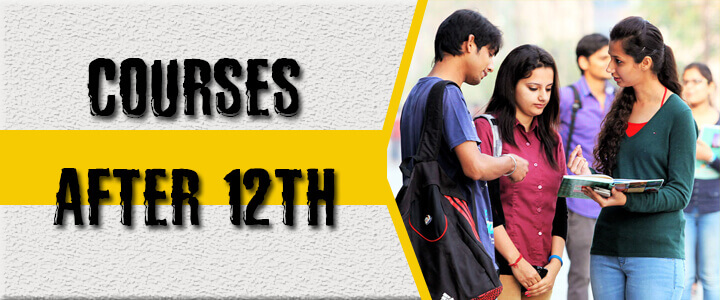 Top 10 PCM Courses after 12th -
Engineering courses (B.E. and B.Tech.)
Architecture (B.Arch.)
Commercial Pilot course
Merchant Navy courses
Bachelor in Computer Applications (B.C.A.)
Bachelor in Pharmacy
Career in Physics
Career in Mathematics
Career in Defense
Engineering Courses
Engineering courses are among the largely opted courses for which Physics, Chemistry and Mathematics subjects' holder in class 12th with securing a minimum aggregate of 50% at the HSC level is the eligibility requirement. Huge diversifications of the engineering courses and endless opportunities in the job market drive lakhs of candidates into it every year.
A student can prepare for the JEE Main entrance exam to get admission to the top-ranked IITs (Indian Institutes of Technology). Besides, there are numbers of private and government engineering colleges to pursue B.E/B.Tech courses. Some popular branches of engineering are computer science, civil, mechanical, electrical, IT, petroleum, and agricultural. One can easily get a job after completing B.E /B. Tech. The average starting salary of an engineer is 3 lakhs per annum.
BE (Bachelor of Engineering)/ BTech (Bachelor of Technology) is a professional undergraduate degree awarded after completing four years of academic study in the field of engineering.
What are the courses available in Engineering Field?
One can pursue engineering courses at diploma level, undergraduate level, postgraduate and doctoral levels.
Diploma Course leading to Diploma in Engineering (3-Year Course)
Undergraduate Course leading to B.Tech Degree (4-Year Course)
Postgraduate Course leading to M.Tech Degree (2-Year Course)
Doctoral Course in Engineering (3-Year Course)
Architecture Course
If you are attracted to the architectural marvels around the world, this is the path for you. The architecture programme includes learning planning and designing building structures. It is a science and art of drawing, planning, implementing and construction of housing structures. The duration of the course is 5 years.
It is and lucrative degree programme and the course focus on various aspects like Interior design, rural and urban planning, landscape architecture, building architecture, construction management, transportation planning etc.
Candidates who have completed Class 12th in PCM and interested in this course can apply to colleges that offer this course.
With rapid urbanization, there are a lot of opportunities for architects. They can find employment in the government as well as the private sector. The work of an Architect includes designing and restoration of buildings such as residential buildings, malls, restaurants, complexes, etc. You can appear in the national level examination NATA (National Aptitude Test in Architecture) conducted by the Council of Architecture, for getting admission in this course. The average starting salary of an architect is 5-6 lakhs per annum.
After the completion of the B.Arch course candidates can pursue a diploma in a specialisation like Diploma in interior design/ landscape design for career growth.
Commercial Pilot Course
If you have been that science student, who always wished for an adventurous life and possess speedy, calculative and high analytical mind, then becoming a Commercial Pilot can be the best option for you. You can try to get admission into Government College like IGRUA (Indira Gandhi Rashtriya Uran Academy) where fees are reasonable. There are many private colleges where you can learn to fly, but fees charged are often very high. The average starting salary of the commercial pilot is 1 – 1.50 lakh per month.
If you want to enrol for the Commercial Pilot Course then the duration is mostly 12-18 Months and eligibility is 10+2 or its equivalent with a minimum of 50% marks in Mathematics and Physics. A fitness certificate from a designated medical practitioner will be necessary while for the issue of CPL License, Class I Medical would be necessary. Pilot Training comprises of two parts. Ground Training and Flying Training! Ground Training covers the theory subjects of Air Regulations, Aviation Meteorology, Air Navigation, Aircraft Technical Subjects, and RTR(A).
Merchant Navy
Merchant navy is not a job rather a passion to pursue. If you are passionate about sea life, then this is the best course to opt for. You will get the opportunity to see the world, enjoy a variety of food, know different cultures, and earn a high salary as well. The average starting salary in the Merchant navy is ₹ 70 – 80,000 per month. You can become captain, navigation in –charge and Assistant captain.
Many courses get you entry into the merchant navy field. Marine engineering, nautical science, ship maintenance courses, etc. are courses that will get you good in the merchant navy. This is one of the most high-paying professions in the country. You can enquire about the various courses available for the merchant navy and choose accordingly.
Bachelor in Computer Application (B.C.A.)
A course in computer application has a huge scope. Although, computer science is one of the branches of engineering but for those who are not interested in pursuing engineering can go for a bachelor's degree in computer application. Computer graduates often get job opportunities in MNCs and draw heavy salaries. They also have good opportunity abroad. With a strong command over programming languages, you can work as a Software Developer, Database Administrator, Network Administrator, System Analyst, Web Designer, App Developer, etc. The average starting salary of a computer engineer is 6 lakhs per annum.
BCA or Bachelor of Computer Applications is a 3-year undergraduate program in Computer applications. Known to be an equivalent of B.Tech/B.E in Computer Science, one can pursue the program from a number of universities and institutions in India.
Bachelor in Pharmacy
This is a job-oriented course. There is a huge demand for pharmacist in the medicinal field. The student can easily find jobs after the completion of this course. In Pharmacy Courses, students studying the chemical structure, function, combination, uses, and preparation of the medicines. The average starting salary of a Pharmacist is 4-5 lakhs per annum. Most of them open up their own pharmacy store once they become a licensed practitioner.
Bachelor of Pharmacy (B. Pharm) is a four-year job-oriented undergrad program in Pharmacy education. Students interested in the medical field (other than practising medicine as a doctor) can opt for this course after class 12th. Once completed one can take up the career of a Pharmacist and work in an array of industries related to the prescription, manufacture, and provision of medicines.
Career in Physics
Physics can offer many opportunities for those who excel in the subject. A career in Physics demands strong logical thinking, problem-solving skills and passion for Physics. You can make a career in areas such as Econophysics, Aerospace, Computational Physics, Medical Physics, Nuclear Physics, Data Science and more. You can also go for research or teaching fields. Some top colleges for the best Physics study are IISc Bangalore, IISER, Hansraj College, NISER, Odisha, Presidency University, Kolkata, Banaras Hindu University, and St. Stephen's College, Delhi.
Once you passed your degree in the subject of Physics you can get major job opportunities as a Physicists. The starting salary of the Physicists lies between ₹ 80,000 to ₹ 1,00,000. Don't wait too long! If you are an enthusiast of Physics and want to make your dream career in the subject then start to choose your career in Physics.
Career in Mathematics
Which subject do you find the most difficult? For maximum students, the answer to this question is Mathematics. But, for those who love the subject, it is the easiest. If you are among such students, you can make a bright future in fields related to number, data, and computation. A career in Data Science, Insurance, Banking, Stock market, Meteorology, etc. can be considered. Some of the top institutes offering a degree in Mathematics are the Indian Statistical Institute, IIT Bombay, IISc Bangalore, Institute of Mathematical Sciences, and Delhi Technological University, Delhi.
Career Paths for Math-Lovers -
Auditor
Data or Research Analyst
Computer Programmer
Medical Scientist
Statistician
Financial Analyst
Economist
Data Scientist
Career in Defense
If you have the zeal to serve the nation, a career in defence is what you should think about. Considered amongst the most prestigious careers, defence involves protecting the country from external threats. There are three branches – the Army, the Navy, and the Air Force. A career in defence forces entails a huge number of opportunities for those who want to lead adventurous lives. For those who have a strong sense of duty towards the nation, there can be no better option than joining the Indian Army as a career.
One can also pursue a career in defence in India, candidates can enrol in the National Defence Academy located in the scenic outskirts of Pune, Maharashtra. The NDA conducts an entrance test for students of class 12 in May every year. Mathematics and Physics are compulsory subjects if one wants to appear for the test.
Bachelor of Interior design
Bachelor of Interior Design is a four-year undergrad program teaching the art and science of interior decoration of building/ residence. The admission process includes qualifying entrance tests held by colleges and performance in a subsequent round of counselling. The program is subdivided into 8 semesters and the course fee ranging between 3 and 12 Lac rupees.
Other Major Professional Courses After Class 12th In India
Bachelor of Fine Arts (BFA)
Bachelor of Design (in Animation)
Bachelor of Design (BDes)
Bachelor of Science (in Hospitality & Travel)
Fashion Technology
Ethical Hacking
Forensic Science
How To Choose The Right Course After Completing 12th Science PCM?
If you are having trouble deciding how to choose, here are some pointers that will make life easy.
Look at your 12th Mark Sheet
Take a close look at your 12th standard mark sheet and you will know which subjects you are good at. You will want to make a career in the subjects you did well. This is a simple thing that many students overlook. Always stick to what you are good at.
Make a List
Make a List Of all the many degrees and career choices you have, you can narrow down and make a small list of courses that interest you and you think you would be good at. Narrowing down will get you a clearer picture
Look at Career Options
One degree will have multiple career options. Therefore, look for a course that has the best prospects, employability, salary, benefits, and growth opportunities. A successful career and good living are what most people look for.
Consult a Counsellor
Career counsellors are the best people to talk to regarding career choices. They can guide you well on the best courses, and the careers those courses might lead to. They can also guide you towards the right college and provide information about scholarships. Most colleges have in-house counsellors but there are expert counsellors as well who will see you for a small fee.
Choose what you Love
This is what matters most. You will never succeed in a degree that you do not love. Even if somehow you manage to pass, you will never make a great career and be happy. So, choose the course you love and the rest of your academic journey will be easy.
Also Read -